For four years, each of the following students have embodied Johnson C. Smith University's motto, "Become Yourself. Change Our World." As they prepare to leave our halls, we are proud to share the stories of some of their Great Grads.
Salutatorian Crystal Howard, is earned a Bachelor of Science degree in computer science information systems and has secured a job as a cyber security analyst with Bank of America. With diversity in technology at the forefront of conversations, Howard hopes her role with BoA allows her to be a role model for Black women. "I want to be an inspiration for younger kids who may not think they can."
Miss JCSU Ashley Bellinger, earned a Bachelor of Arts degree in interdisciplinary studies with concentrations in graphic arts in production and minor concentrations in business and entrepreneurship.
Bellinger will begin employment with Red Ventures as a digital marketing associate this summer. Through a partnership with the University, students enrolled in JCSU's three-credit, two-semester Digital Marketing course are guaranteed a job with Red Ventures after completion of the course with the grade of a B or higher. "COVID-19 has made it harder for students preparing to embark on their careers, but this opportunity with Red Ventures has made it easier for me. I've just had to keep my grades up and everything else has fallen into place."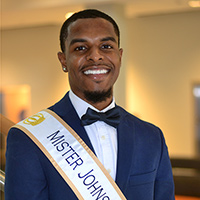 Mister JCSU Tymier Farrar, earned a Bachelor of Science degree in business administration with a concentration in marketing and finance. Farrar has dreams of becoming a sports agent or operating a law firm dedicated to athletes. "I want to be a jack of all trades," he said. "Owning my own firm will allow me to represent athletes as I help guide their professional careers and business decisions."
William Case, earned a Bachelor of Science degree in computer science information systems and has already secured a position with Microsoft as a Computer Engineer. Case had a nontraditional path to graduation.
After graduating high school in Miramar, Florida, he worked for nearly two years before moving to Charlotte, where he eventually enrolled in Central Piedmont Community College for his Associate's degree. "Right after graduation, I got a pretty good job doing support for a software company, where I eventually was promoted to account management," Case said. "During that time, I realized that I wanted to be more on the creative side." That's when he made the decision to apply to JCSU.
Comments
comments