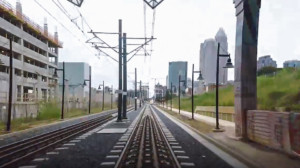 CATS (Charlotte Area Transit System) held a meeting yesterday to talk about the future of the new light rail lines and public transit updates around Charlotte.
Officials released plans for the new east-west light rail line (which would eventually connect Gaston County with Matthews, NC) to run along Uptown Charlotte's northern edge. They briefly considered a 1-mile-long tunnel under Uptown, but at an estimated price tag of over $1 billion, and countless unknown obstacles, officials decided to opt for a simpler route that would snake north of the city's core.
The Silver Line plans now show the line running parallel with I-277 from Independence Blvd. to North Graham St., connecting with the highly anticipated 'Charlotte Gateway Station'.
Officials still plan on building Lake Norman's 'Red Line', but since they haven't been able to work a deal to use Norfolk Southern's freight lines, they will just be adding new express bus services to the north until they are able to secure funding to lay a completely new line.
They plan on running express buses along the I-77 toll lanes and building 8 new park-and-ride facilities at Mooresville, Langtree, Griffith, Catawba, NorthCross, Gilead, Hambright and Northlake Mall.
CATS is also moving forward with the 2nd phase of the Gold Line streetcar, running from Central Avenue through uptown and west to Johnson C. Smith University. The $150 million plan is now scheduled to start shuttling passengers by fall of 2020.
CATS' ambitious new plans will require substantially more funding than what was brought in by the 1/2 cent sales tax increase (totalling just $103 million last year).
Building the 3 new transit corridors (north, south-east, and west) have been estimated at costing between $6 billion and $8 billion, based on the per-mile cost of the Blue Line Extension.
They will likely need a balanced plan for federal, state, and more local tax money before they proceed with laying any new light rail track.
Comments
comments