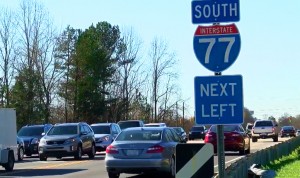 Advocates with the Widen I-77 group will be presenting their case before The NC Court of Appeals this afternoon in hopes of stopping the I-77 toll road project.
As congestion builds and accidents along the construction areas increase, so does the backlash against the tolls. Many people now feel like today's case has a good chance of stopping the project for good.
Widen I-77 will be arguing that NCDOT's transfer of power to I-77 Mobility Partners is unconstitutional. You can read the entire court document here.
"North Carolina law requires a public project to primarily serve the public interest and what we are arguing is 50 years of private tolls, where a private company profits off of public misery, does not serve the public interest," Kurt Naas, of Widen I-77, said.
The toll lanes have now been under construction for over a year. If they are completed, they will stretch from uptown Charlotte to Mooresville for 26 miles, offering drivers the option to pay a fee to drive in less-congested lanes.
How do you feel about the I-77 toll lanes? 
Comments
comments