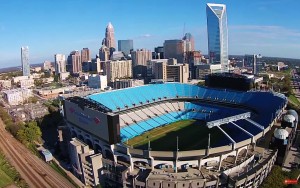 The Carolina Panther's new majority owner, David Tepper, just made the decision to buy out all minority owners of the team, according to sources with Sports Business Daily (SBD).
His 48% share purchase from Jerry Richardson gave him the exclusive right to buy minority shares if he chose.
According to SBD, "Tepper's purchase values the Panthers at $2.275B, so the decision to buy out the other 52% is obviously a pricey one. The deal is expected to close next month or by early August."
The current limited partners include Jerry Richardson's wife Rosalind; his children Mark and Ashley; M.C. Belk Pilon; Katie Belk Morris; H.C. Bissell; Erskine Bowles; Derick Close; Elliott Close; Cameron Harris; John Harris; Leon Levine; Jerry Wordsworth; and Steve Wordsworth. All of the minority owners live in Charlotte, other than the Wordworths, who live in Rocky Mount, NC.
The decision by Tepper wasn't a total surprise, as he commented about the difficulty of having minority owners during last month's news conference;
"I'm trying to determine the development I want to have in the community. So the more development there is in the community, it might make it more difficult to have minority partners."
The minority owner buyout is expected to close sometime in late July or early August.
Comments
comments