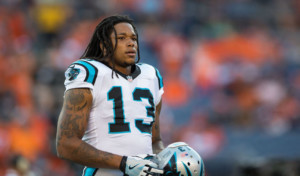 The Carolina Panthers have just traded Kelvin Benjamin, our #1 wide receiver, to the Buffalo Bills in exchange for 3rd and 7th round draft pick in next year's season.
According to ESPN's interview with GM Marty Hurney, "The Panthers were willing to part with him because it eliminates some redundancy on the field with the 6-foot-5 Benjamin and the 6-4 Devin Funchess, who has a similar skill set and now moves into Benjamin's role as the No. 1 receiver. The Panthers also want to get speed guys such as Russell Shepard, rookie Curtis Samuel and Kaelin Clay on the field more."
Because of the timing of the trade, it's now officially the last trade of the 2017 season. NFL Network's Ian Rapoport, tweeted out that the trade was finalized literally 3 minutes before NFL's trade deadline;
The #Bills deal for #Panthers WR Kelvin Benjamin came together at 3:57 pm — 3 minutes before the trade deadline.

— Ian Rapoport (@RapSheet) October 31, 2017
Most Panthers players are now in shock over the decision.
😳

— Shaq Thompson (@ShaqThompson_7) October 31, 2017
Smh

— Captain Munnerlyn (@captain_41) October 31, 2017
Bruh……………😔

— Thomas Davis (@ThomasDavisSDTM) October 31, 2017
😮😧😱🤔🙄

— charles johnson (@randywattson) October 31, 2017
🤦🏾‍♂️…..

— Kawann Short (@kk_mr93) October 31, 2017
What are your thoughts on the decision?
Comments
comments