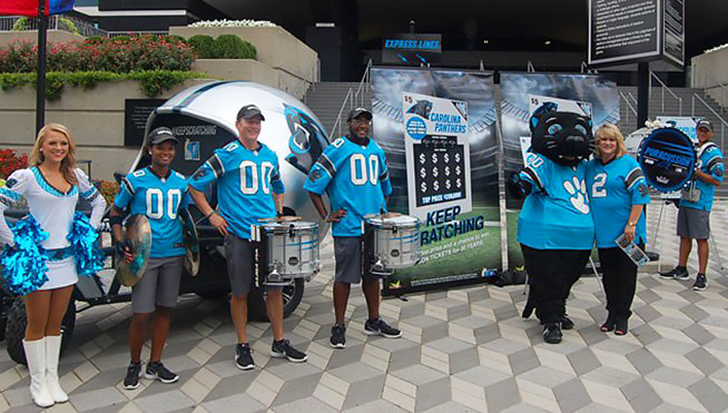 The Carolina Panthers have just joined forces with the N.C. Education Lottery to create North Carolina's first Carolina Panthers scratch-off ticket, with a grand prize being 20 years of season tickets to Carolina Panthers home games.
"One thing that a lottery does is create unique once-in-a-lifetime prizes. We can offer these great prize thanks to our new partnership with the Carolina Panthers. This will be a big win for some lucky Panthers fan and the money raised from this game will be a big win for education." commented Terri Avery, deputy executive director of sales for the N.C. Education Lottery.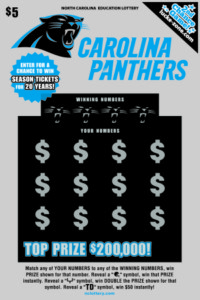 The lottery has had a marketing partnership with the Panthers for six years, but this will be the first time season tickets will be offered.
Lottery players can find the tickets at most of the state's 6,800 lottery retail locations.
"The N.C. Education Lottery has been a great partner for the past six years. We are excited this year that we can expand that partnership to bring the first ever Panthers branded scratch-off ticket to North Carolina, giving fans the chance to win once-in-a-lifetime experiences with the Carolina Panthers." commented Danny Morrison, president of the Carolina Panthers.
The $5 scratch-off ticket begins with three top prizes of $200,000, with overall odds of winning a top prize set at 1 in 1.1 million and the odds of winning a break-even prize being 1 in 4.08. All tickets can be entered into the second-chance drawing for a grand prize of 20 years of Panthers season tickets, a VIP game experience, and other prizes. The odds of winning the grand prize will depend on how many entries are submitted.
Panthers fans aged 18 and up can also win free pairs of tickets to one of the 10 pre-season or regular season home games this season by showing their Panthers Pride on the lottery's social media channels. Five weekly drawings will be held with each offering two pairs of game tickets and four $100 Panther-branded gift cards to buy team merchandise.
What do you think about the new Panther Lottery Tickets? 
Comments
comments