Drama erupted across social media today when the Panthers announced plans to part ways with their longtime starting QB Cam Newton. The Panthers attempted to soften the announcement by saying they gave Cam "permission to seek trade", but according to Newton, the decision to part ways was a seemingly one-sided surprise.
The organization made the announcement late this morning by sending out a press release and posting to their social media channels.
About an hour after the Panthers posted to Instagram about their decision, saying, "We have given Cam Newton permission to seek a trade", Cam fired right back by commenting under the post, "please do not try and play me or manipulate the narrative and act like I wanted this; you forced me into this!!" 
ŠTØ₽ ₩ÏTH THĒ ₩ØRD ₽ŁÄ¥‼️ ï ñëvër âškëd før ït‼️ THĒRĒ ÏŠ ÑØ DØDGÏÑG THÏŠ ØÑĒ; ï łøvë thë @panthers TØ DĒÄTH ÄÑD ₩ÏŁŁ ÄŁ₩Ä¥š ŁØVĒ ¥ØŪ GŪ¥š‼️₽ŁĒÄŠĒ DØ ÑØT TR¥ ÄÑD ₽ŁÄ¥ MĒ, ør MÄÑÏ₽ŪŁÄTĒ THĒ ÑÄRRÄTÏVĒ ÄÑD ÄČT ŁÏKĒ Ï ₩ÄÑTĒD THÏŠ; ÿøû førčëd më ïñtø thïš‼️ -1ØVĒ🤟🏾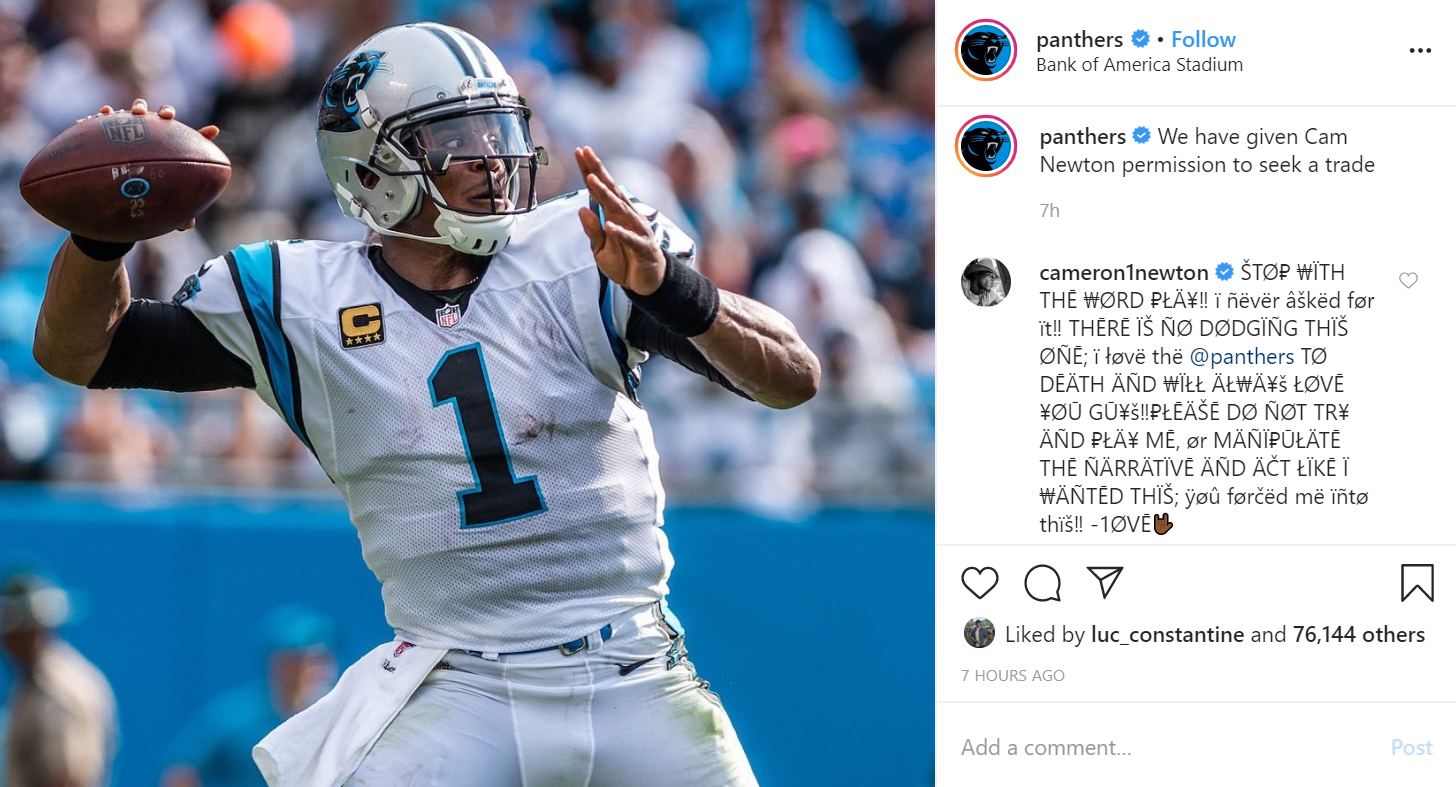 In the Panthers press release, they noted that "General manager Marty Hurney met with Newton and his representation to discuss the plan, signaling the end of a nine-year run in Carolina".
"One of the distinct pleasures of my career was selecting Cam with the first pick in the 2011 draft," Hurney said. "Every year difficult decisions are made and they are never easy. We have been working with Cam and his agent to find the best fit for him moving forward and he will always be a Carolina Panther in our hearts."
Panthers owner David Tepper also weighed in on the decision to part ways with Newton, saying:
"Cam is one of the all-time greats in Panthers history. If you ask any of our fans for some of their most memorable moments, I'm willing to bet that most of them would include Cam – electrifying plays, giving away footballs after touchdowns, fun celebrations and big wins. His competitiveness and drive are rare. Off the field, you can't measure Cam's contributions. He has touched the lives of youth throughout the Carolinas and in Atlanta. He's unique and I wish him all the best."
A few hours after the announcement was made, insiders reported that the Panthers were finalizing a three-year deal with former Saints quarterback Teddy Bridgewater, according to the Riot Report.
What do you think about the decision to part ways with Cam Newton?
Comments
comments