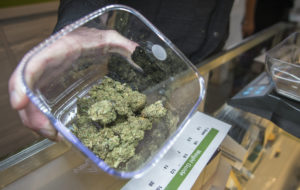 People who are just starting out in their cannabis growing journey are often concerned about the many legalities surrounding the growing of cannabis. Cannabis has developed something of a bad reputation in recent times. This bad reputation is arguably partly to blame for the development of the bad reputation which has left so many people concerned about getting involved with growing their very own cannabis for their own medicinal or recreational use.
Don't make the mistake of getting on the wrong side of your law with your cannabis growing! Start out right and follow our simple guide to staying within the law—especially when it comes to buying cannabis seeds online.
Why You Might Want to Buy Cannabis Seeds Online
There are many different reasons as to why you might want to buy your cannabis seeds online, instead of buying them in a local store.
Discretion and Privacy
For a start, buying cannabis seeds online usually comes with far more discretion than going into a store. Many people who are just getting started with their cannabis growing experience will want to keep their new hobby a secret, at least to start with—partially because of the poor reputation that cannabis has developed in recent times.
Buying seeds online is a great way for people to keep their cannabis growing a little bit quieter. Online shopping means that you won't have to publicly go out to buy your seeds, and seeds are always delivered in discreet packaging that does not hint at the contents as well; this all helps to protect your privacy and discretion. For people who are particularly concerned about discretion, seeds can also be delivered in specialized "extra discreet" packaging such as in a shirt or a wallet.
Greater Strain Selection
When it comes to choosing the ideal cannabis seeds for your needs and setup, having a good selection of strains to choose between can be highly beneficial. While most cannabis seed stores and dispensaries will offer a good choice of strains for people to consider, they simply cannot rival the incredible selection that is found online.
Online seed banks can offer as many as thousands of different strains for people to choose between. These strains will vary in their yields, heights, flavors, THC content and purpose, and many other different factors. This can be important if you're trying to calculate how long will cannabis stay in your system. These online seed banks often offer strains from many different seed breeders, too, further helping to increase the amount of choice that you can have.
This incredible selection is essential for anyone looking to find the perfect seeds for their needs, and so many people want to order their seeds online for this very reason.
Can I Legally Purchase Marijuna Seeds Online?
The answer to this question is not a simple yes or no. Indeed, it is perfectly legal for you to buy your marijuana seeds online—provided that you live in one of a select number of states (for United States residents) or countries (for European residents).
In The States
If you live in the United States and want to buy marijuana seeds online, you need to check that doing so is legal in your state. Many people make the mistake of assuming that, because one state does or doesn't allow people to buy cannabis seeds online, the same rules will apply to every state; in fact, some states allow you to buy online cannabis seeds, while others do not allow you to buy cannabis seeds online. Even in states that have legalized the use of cannabis, the rules can be highly variable; as such, always do your research and check if your state allows cannabis seed sales online.
In The UK
In the UK, it is entirely legal to buy cannabis seeds online. However, there is a catch—while you can buy the seeds online without breaking any rules, the act of actually germinating the seeds that you have purchased is illegal; the same is the case for people who have purchased cannabis seeds "with intent" for growing and germinating these seeds.
In Europe
The rules surrounding the purchase of cannabis seeds online can vary wildly throughout the different European countries. If you live in Europe, it is thus important that you try to make sense of the many different rules before buying cannabis seeds online.
Germany, for example, is in a rather tricky position: cannabis seeds are not covered by the German Narcotics Act, however, the sale of cannabis seeds in the country is also illegal. The difference is that if you buy cannabis seeds online, you are actually operating on the right side of the law—provided that the seeds come from a country outside of Germany.
Spain, by contrast, is a great country for people looking to grow cannabis seeds. Cannabis seeds can be legally purchased online in the majority of Spanish regions and can be grown and germinated for personal use only.
Cannabis seeds can also be purchased legally online for people living in Italy, who are perfectly entitled to invest in seeds (due to the fact that they are considered to be cultivation equipment). However, these seeds cannot be legally germinated, and if it is suspected that your intention is to do so then you may find yourself on the wrong side of the law.
In the Netherlands, people are able to buy seeds under a special "tolerance policy", although these seeds can only be germinated in small quantities for personal use. This is similar to how the French see the buying of cannabis seeds online; in France, seeds can be purchased online from other countries, so long as they are not shown in a favorable light and are not grown.
In Summary
There are a number of different reasons as to why you might want to grow your own cannabis, but it is always important to stay within the rules of the law when doing so. There are many different legalities that must be followed when growing cannabis, and failing to do so will often result in you getting in trouble for something that you really didn't need to worry about.
Comments
comments