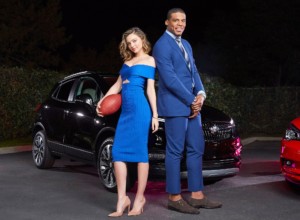 The Panthers won't be playing in the Super Bowl this year, but that won't stop Cam from appearing before millions during the big game.
Cam Newton was just spotted in Los Angeles filming a new 2017 Super Bowl commercial with 33-year-old supermodel Miranda Kerr for Buick.
The duo spent several hours earlier this month at the Los Angeles Zoo filming the ad. Miranda rocked an electric blue off-the-shoulder pencil dress and Cam suited up in an all-blue 'Sharks' uniform.
Buick just officially pre-released the Super Bowl commercial on Youtube – watch it here:
Here's the official "behind the scenes" video of the commercial in an interview from Cam:
What do you think about the commercial?
Comments
comments