Superman is back!
Yesterday's sweet, sweet victory against the New England Patriots (reigning Superbowl Champions) may have marked a turning point for the Carolina Panther's 2017 season.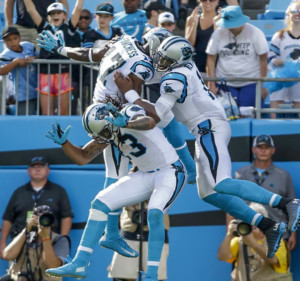 While our defense still needs some refinement, our offense truly shined.
Cam Newton's 7-yard touchdown run in the fourth quarter gave the Panthers a 30-16 lead over New England. The Patriots then rallied back to tie Sunday's game 30-30, but after one last Panthers drive, Graham Gano kicked a 48-year field goal with 4 seconds on the clock to win the game 33-30.
Even without Greg Olsen, Newton still threw for three touchdowns and ran for another. He finished with 44 yards rushing and 350 yards of the team's 444 yards of offense, many of which came after Patriots mistakes in the secondary (we didn't even see our first punt until half-way through the 4th quarter).
Yesterday Cam Newton officially became the first quarterback in NFL history to rush for 50 career touchdowns.
Cam Newton is the first QB in NFL history with 50+ career rushing touchdowns @Panthers

— NFL Research (@NFLResearch) October 1, 2017
He also became the 6th quarterback in NFL history to make three TD passes and a scoring run in a game six times, tying Drew Brees, Jack Kemp, Tobin Rote, Billy Wade and Steve Young.
The victory was also the 54th regular season win for Newton as the Panthers' starting quarterback, breaking his tie with Jake Delhomme for the most wins by a starting quarterback in Carolina Panthers' history.
Congrats Cam and way to go Panthers!
Let's take it all the way this year!
Comments
comments