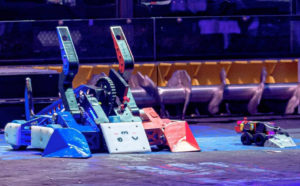 Robots will be taking over the city – or at least Discovery Place Science – next month as the Museum hosts a robotics challenge beginning at 10 a.m. on Saturday, August 17.
The Bot Battle invites members of the public to create their own amazing robots over the next month and then bring them to the Museum on August 17 for a battle to see whose robot is the best.
Those wishing to take part in the Bot Battle can enter one of three categories:
Alpha – Robots in this category are judged solely on the appearance of the robot. It does not have to have any functionality. The winner of this category receives a gift basket.
Beta – Robots created for this category must successfully accomplish just one function. Creators can choose whether their robot lights up, makes a sound or carries out some other function that requires a single sensor to execute. The winner of this category receives a gift basket.
Gamma – One robot, multiple functions is the name of this game. Robots entered in this category must feature multiple sensors and complete multiple functions or tasks. The winner of this category receives a Discovery Place Science Family Membership for a year.
A team of judges will decide the winner in each category. While groups are welcome to participate, the winners receive just one prize package.
Pre-registration is required. Sign up to participate in the Bot Battle by emailing Juliann Chavez, director of public experiences at Discovery Place Science, at juliannc@discoveryplace.org.
Comments
comments