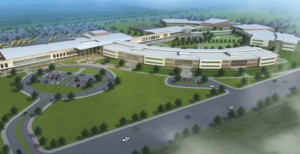 As Concord's growth continues to outpace most of the regions, it's starting to burst at the seams in terms of infrastructure and community resources.
Cabarrus County Schools are now one step closer to alleviating some of the stress – they were just approved to purchase a 108 acre piece of land in Concord for $4.6 million. They now plan on building a massive 2 story state-of-the-art high school for the ever-increasing population.
"Our No. 1 priority of our school system is a new high school in a centralized location within the county. That was back in December when we rolled that out, and we've been looking pretty diligently for land ever since. Had limited options, but we were fortunate enough to be able to come across this piece of property, which actually had been sold but then someone backed out on it, so it became available." commented Tim Lowder, the executive director of operations for CCS.
The new school's property sits on Weddington Road in between Cabarrus Country Club and George W. Liles Parkway and right across from the exit of Weddington Hills Elementary School.
The new Concord city high school is now set to open in the fall of 2019.
Comments
comments