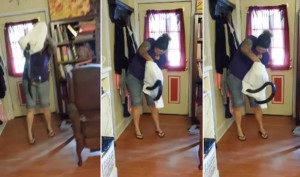 An epic North Carolina tattoo artist just became a viral sensation after posting a video of a recent snake encounter.
SunShine McCurry posted the video to her Facebook profile on June 1 after catching a snake that snuck into her Forest City, NC.
She basically just grabbed a pillow case and scooped up the massive 5-ft-long black snake without giving it a second thought;
Her original Facebook video received millions of views in just a few days, then she posted it to YouTube to start earning ad revenue – the YouTube video already has over 100,000 views.
Some of the comments under the video show why the video went so viral so quickly;
"I'd marry a woman that's like even 1/10th as awesome as you." – Hippo Maestro
"THIS WOMAN IS AWESOME! I couldn't even enter a room with a spider and she straight up man handles that snake like it's just a pair of dirty underwear" – allisinian
"Obviously, you come from Paradise Island. <3" – Eve Esquire
Hopefully we can all glean a little courage from SunShine!
Comments
comments