Isn't it shocking that over $25 trillion market accounts for exchanging capital, goods, and services across international borders and territories? According to Review of Maritime Transport, around 75% of goods are shipped via shipping containers or transportation.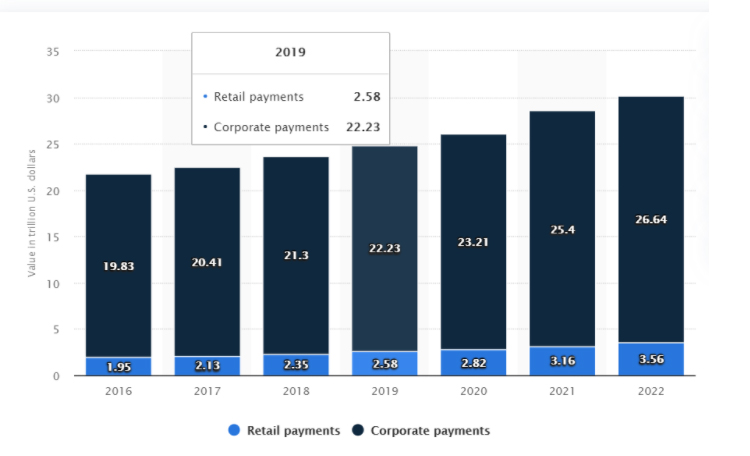 Image Source: Statista
Thus, it has been relatively hassling for the trading process regarding security, transparency, trust, and coordination between the exporter and importer. Since trading is highly dependent on human resources, there is a problem in operational activities. Consequently, it has led the trading business towards complexities and inefficiency.
Along with emerging technologies such as AI (Artificial Intelligence) and IoT (Internet of Things), Blockchain might change the manner of International Business, its operations, and regulation. Nevertheless, what is Blockchain? 
What as well as how is it going to have an impact on International Trade? Does it eliminate the risk of fraud in payment processing services? Without any further ado, let's quickly move towards the waves of Blockchain in international business.
Blockchain Technology and International Business
Blockchain is a distributed record-keeping system that uses encryption to provide for auditable transactions. We can use the Blockchain to track each transaction, the set of transactions is verifiable, and one cannot edit the data in Blockchain without the user's knowledge. 
These blockchain features allow two or more parties without a trusted relationship to engage in reliable transactions without relying on intermediaries or central authority (e.g., a bank or government). Talking about medium of exchange, many alternative coins have also entered the market, which is available even in developing nations. You can see how to buy ethereum in Nigeria, as it's one of the most popular alternative coins. 
Blockchain has a decentralized and trustless nature that can lead to new opportunities and benefits through greater transparency, enriched security, and easy traceability. 
Let's read how it is shaping the trade business and how transformative it is for international trade.
Supply Chain Management
Many new technologies are presenting promising opportunities for improvement across the supply chain. Blockchain helps invisibility of every transaction and its associated value to anyone with access to the system. Transparency in data sharing makes sure everyone is on the same page. 
There is transparency in every transaction for a manufacturer to retailers, from vendors to contractors. It has helped to reduce conflicts and delay in operation. The risk of misplacements in the supply chain is consolidated as one can track products in real-time. 
Walmart, one of the biggest retail shops, is utilizing Blockchain to improve its supply chain.
Trade Finance 
Trade finance consists of the company's financial products and services to facilitate international trade transactions and mitigate the risks. The principle of trade finance is introducing a viable and trusted third-party for exporters and importers to transact business through trade securely. Most rejections of trade finance requests submitted by SMEs in emerging markets to financial institutions stem from compliance problems, lack of trust, and low profitability. 
Blockchain simplifies access to alternative investors through marketplaces, thereby increasing sources of funds for smaller players. It solves many such issues by authenticating documentation, streamlining operational processes, and facilitating coordination between multiple stakeholders.
Cross-border Payment 
International Business practices are usually viewed as inefficient for having too many intermediaries involved like security trade brokers, custodians, and payment agents. It keeps the possibilities of being prone to settlement risks and having settlement cycles unpredictable and time-consuming. 
Blockchain technology quickly expands to a wide variety of sectors. Using Blockchain can increase the speed and efficiency of all forms of transactions while providing a way to track and manage the process securely.
The transactions in Blockchain are done via digital currencies while the procedure is accurate, tamper-proof, and less costly. They can either rely entirely on cryptocurrencies or use a blockchain to register fiat currency exchanges and transfer. Now you can even convert bitcoin to naira via Vertex market, as it has been gaining attention from developing nations too. 
Logistic Management
The logistic field is primed for a technological upgrade, and a distributed ledger is the next big thing thanks to its transparent recordings, reduced costs, and efficient route information. The logistic department requires multiple counterparties that lack effective coordination because many producers are found in remote locations and emerging economies. 
It raises the risk of transactions, contributing to the limited access for new or growing companies. Fraud and theft are possibilities as markets become more efficient; commodity trading is evolving into a low-margin service business. 
Blockchain's cost-reducing capabilities will increase margins, while its deterministic trust structure will drive accessibility within the markets. Blockchain-based platforms can also optimize the process of customs goods pre-arrival and their expedited release by real-time sharing of the relevant information. Another possible use case for distributed ledgers at customs is automatic analysis and selection of customs documents based on some predetermined criteria set in smart contracts.
Track and Trace
Blockchain technology offers greater transparency and a single source of truth for participants using supply chain networks. Intelligent track and trace of orders, goods, and delays Blockchainhain could expedite the sending and receipt of goods. Its product's authenticity may be linked with non-fungible tokens at the moment of creation, which can be used as a digital certificate. 
Blockchain provides several benefits in terms of track and trace, like digitizing physical processes via smart contracts to address the issues and enhance productivity. Transparency helps each stakeholder to provide verified information. 
Distribution Control
Most brands and retailers cannot control distribution outside of their channels. With blockchain technology, they can use smart contracts to define specific rules to manage distribution across multiple channels.
Conclusion
Blockchain technology has prolonged beyond the border of cryptocurrency and taken hold in various areas like international business. Blockchain can increase efficiency for all the participants involved in international business. 
SMEs can give easy access to trade finance. It also can bring benefits to governance; for example, For traders in some countries are reported to use fake invoices to minimize taxes. Government agencies can be part of the blockchain-based decentralized system.
With the incorporation of blockchain technology, there may be a requirement for drastic change in company business models. Everyone in the business adoptBlockchainhain must provide significant knowledge to understand this new technology and its impact on day to day operation. 
Comments
comments