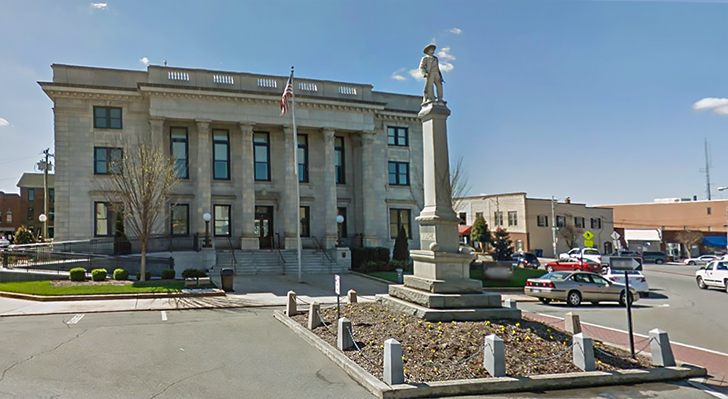 United States District Court Judge Catherine Eagles entered a consent order and judgment today designed to protect the First Amendment rights of peaceful protestors to protest in front of the Alamance County courthouse, lawyers for the plaintiffs have announced.
Members of the Alamance County NAACP and eight individual plaintiffs filed suit last summer after Alamance County illegally banned protest near a confederate monument located in front of the historic county courthouse in response to increased demonstrations against white supremacy.
Judge Eagles had previously issued preliminary orders at plaintiffs' request which found that plaintiffs were likely to be successful in the case. These preliminary orders in plaintiffs' favor led to the settlement discussions between the parties.
The following are statements from lawyers and plaintiffs involved in the case:
"This settlement means we shouldn't have to fear being arrested for protesting that monument or any government policy or practice on the courthouse grounds."
-Barrett Brown, president of the Alamance NAACP.
"We are happy to have negotiated this settlement agreement for racial justice demonstrators who were denied their First Amendment rights by the Alamance County Sheriff's Office."
-Elizabeth Haddix, managing attorney for the Lawyers' Committee for Civil Rights Under Law.
Background on the settlement:
The settlement agreement requires the Sheriff's Office to allow protestors access to the Historic Courthouse grounds where the Confederate monument is located, and may not restrict that access unless necessary on a short-term basis due to an emergency situation.
It also requires the Sheriff's Office to agree that protestors' use of "swear" or "indecent" words which do not meet the legal definition of "fighting words" is protected under the First Amendment and is not lawful grounds for arrest, even when such language is directed at law enforcement officers. Finally, it requires County officials, including all members of the Board of County Commissioners and all sworn Alamance County Sheriff Office personnel, to participate in an educational training on implicit racial bias and racial equity.
This settlement resolves plaintiffs' First Amendment claims against the Alamance County Sheriff's Office and County officials, and because it is entered as a Consent Order, remains under the court's jurisdiction for enforcement should that be necessary.
Comments
comments