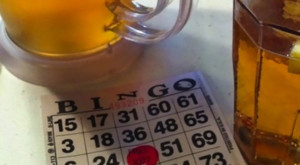 Bingo is such a timeless classic that even those who have the guts to say they don't like it are not taken seriously. The game is easy to learn, quick to jump in and out, affordable to play if you are in it for the money and simply fun. Just fun. The game is played by virtually all age ranges. It has the ability to entertain kids as much as it entertains and keep elder citizens in a sharp state of mind.  Even celebrities find their joy in this game. Mick Jagger is famous for throwing huge crazy bingo parties that drive his community neighbors crazy. Rock n roll!!!  Robbie Williams is known for hosting charity bingo games, and his college Bono has the same passion for the game. 
While the game is old as dust, it has definitely received some enhancements and brought to the masses with different technological advances. As with every single aspect of our lives, Bingo has evolved to stay relevant and captive new players. 
The game is said to be originated in Italy back in 1600. The game is a variation of Il gioco del Lotto, a still running game in that country. It has found its way to France where the name was changed to Le Lotto. A few centuries later migrated to Germany and the United Kingdom. Next station, the world! 
It was in France where the balls number was increased to ninety. The game started to become really popular in 1970 when most theatres in the United Kingdom were transformed in bingo halls and skyrocketed its popularity. The game is very simple.
At the beginning of the match, you buy a card with random numbers and spaces, if you are in the UK. American bingo has letters spelling BINGO in the first row, but that's a story for another time. There's a ball shuffling machine in the shape of a spherical cage where the numbers are shuffled. The Bingo staff draws a ball from the shuffler and the caller calls the number. If the players have the number on their card, they mark it. There's a small cash prize for players who mark all numbers in a straight vertical, diagonal or horizontal line. If you scratch all numbers on your card, you have to shout bingo before the next number is drawn to win. If you wait too long the card will turn worthless. 
That's how the game has been since the 18th century. As technology advances so does ways of entertainment, otherwise they'll become old and new people won't jump on board. The next step in the evolution of bingo showed up as electronic bingo. It's the kind of bingo mostly played now at bingo halls in the United Kingdom.
The game is played through terminals, which there's one for each player. Players can bypass the six cards maximum limit increasing winning chances. Numbers are marked automatically as they are called. Even though it kills the novelty of scratching numbers, it leaves less room for mistakes and higher prizes due to the upgraded card buy allowance. At a higher cost though. 
There terminals are equipped with small touchscreens and to buy cards you have to own a club account to add money into and buy cards. To keep the tradition, you still need to shout Bingo when you complete all your numbers. Once verified, the prize goes into the winner's account. Larger bingo halls offer 'Wizard areas' with larger screens to spoil the players. It's proven that electronic bingo offers better chance for winning for players and more profit to the house, so it's the go-to for biggest bingo halls in the UK. 
While bingo halls are still a extremely profitable business, it's a business that has started to decline due to high taxes and non-smoking policies, believe it or not. 
While, as we mentioned above, bingo halls are not as popular as they used to be, we can't say the same about the game itself which is as relevant as ever. As most of gambling games, they are transitioning into the virtual / online word. It all started back in 1996, with the boom of the internet. It wasn't as popular back then but was still present. Today you can find bingo sites with just a few words search on your browser and have a great time. 
The powerhouse behind online bingo is a random number generator, instead of balls as in regular bingo halls. Most of the times, online bingo sites offer an open chat to players. Studies deducted that building a bingo players community help maintain customers, so they encourage rich communication. 
The first noted bingo site was a free one, and you only had to provide your location to receive customized adds. This type of bingo sites also offers to auto-mark your numbers as they are called by the software. You may also buy a large number of cards if you are experienced enough, as in electronic bingo. 
With the advance of technology and the boost the internet speed has received in the late years, those sites have evolved into online bingos that can be run from our phones, smart tv's, laptops or tables allowing us to play from anywhere and breaking the boundary of cables and plugs. It's like having your own electronic bingo at home! 
Of course, interfaces have been updated to keep up with latest resolutions and cutting edge graphics make them more attractive than ever. 
So, what's the next step? While playing on the go is fun and accessible, we are still amused by experiences. And nothing makes us experience sensations like virtual reality. Though not many, there are a few VR bingo sites available. The gear is still expensive and bulky, but so were cellphones back in the eighties and everyone has one now. There's no doubt that, as the years go by, virtual reality will become more accessible to everyone. Some of the latest headsets are wire free, which is one of the main complains of VR headsets. 
It's just funny that after walking a long path from bingo halls in the 70's we are going to evolve into wearing goggles that replicate, virtually, bingo halls from that same era. It's evolution, baby!  
Comments
comments