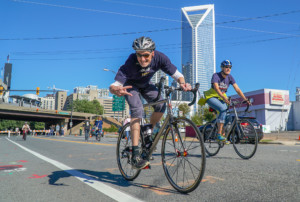 After two years of "virtual rides," Bike Charlotte, a citywide celebration of all things cycling, kicks off April 22 with its traditional breakfast ride along the Little Sugar Creek Greenway to the Charlotte-Mecklenburg Government Center.
Government center activities include breakfast, informative speakers about Charlotte's bike and pedestrian infrastructure and a trail bike demonstration by "Trail Boss" Jeff Lenosky, three-time national trail bike champion and world record holder for the "bunny hop."
Bike Charlotte events continue through May 8 and include organized rides, skills clinics, mountain bike rides, bike bingo, and more, with an emphasis on fun and making cycling approachable for all. See the schedule on the Bike Charlotte calendar of events.
"The past few years, we talked virtually about the best places to ride, where to ride safely and how to ride," says Will Washam, bicycle program coordinator for the City of Charlotte. "Now we can all ride together!"
Bike Charlotte promotes the everyday use of bicycles for transportation, recreation, and discovery and has been instrumental in improving Charlotte's bicycle infrastructure and in planning for a better biking future. Highlights include:
The Queen City now has more than 120 miles of paved, on-road bike lanes, with another 43 miles expected during the next five years.
An uptown "cycle track" of protected bike lanes will open in mid-April, connecting Little Sugar Creek in Midtown to Irwin Creek in West End.
The 6th Street Cycle Track will connect cyclists directly to more than 40 miles of greenways and bike lanes.
Mecklenburg County's greenway system now stretches 62 miles, with another 12 miles to be finished this year.
"A lot of people have taken up biking during the pandemic and want to do more," says Washam. "Bike Charlotte is the perfect opportunity for new riders to ride alongside more experienced riders and find out about all the great riding spots in Charlotte."
For more information about Bike Charlotte, visit the Bike Charlotte website here.
Comments
comments