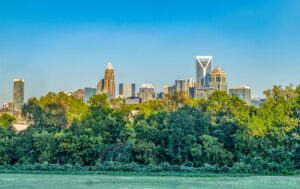 About two and a half hours from North Carolina's capital, Raleigh, Charlotte is strategically situated along the Catawba River and right amid coastal lowlands and mountains. Charlotte is a powerhouse filled with rich heritage and culture and this can be exemplified by the wide array of historical grounds, museums, and art exhibitions.
If you are considering moving to this great American county, then you'll be in for a surprise. There are so many things to see and do in Charlotte but most importantly, how habitable is Charlotte? Of course, one of your first considerations will be to explore several neighborhoods to see which one best suits your lifestyle needs. 
To help save you some time and effort from your research, here is a 2022 guide on the best neighborhoods in Charlotte.
Ballantyne
Now, each neighborhood in the so-called "Queen City" has its distinctive characteristics and Ballantyne is no exception. This is an upscale neighborhood in Charlotte with a population of more than 25,000.
This neighborhood is minutes from the South Carolina border, meaning that you get to also enjoy more of what part of South Carolina has to offer. As regards home ownership in Ballantyne, first-time homeowners in this neighborhood can easily move into their locations of choice with the advantage of a first time home buyer program geared to help you own a home with affordable repayment terms.
Some of the home financing options you might want to look into include USDA Loans, Federal Housing Administration, North Carolina Home Advantage Mortgage, and Home Advantage Tax Credit. 
Ballantyne is generally a great neighborhood for golfing enthusiasts, foodies, and fun lovers alike. It also provides lots of job opportunities, which is among the reasons it's been ranked third in the list of North Carolina's best places to live. 
Dilworth
Tactically located in Mecklenburg county, Dilworth is a great neighborhood to live in. Security is not an issue of concern with police patrol cars virtually combing through every inch of it.
The streets in this neighborhood are a sight to behold, with oak trees concealing charming bungalows, majestic sidewalks, and oh, the air in this town, crisp clean. Besides being among the most affordable neighborhoods for renters in Charlotte, Dilworth is easy to get around and this has been made possible by affordable public transportation crisscrossing the town.
North Davidson (NODA)
With a vibrant neighborly atmosphere, NODA has become one of the best neighborhoods to live in Charlotte. It's a great location for art lovers, those in the entertainment business, and those looking to lead a fulfilling life.
Both daytime and nightlife experiences are exhilarating, with restaurants offering tantalizing cuisines during the day and colorful bars bringing the town to life at night.
Midtown
As the name suggests, this neighborhood is centrally located and has for years acted as a connecting center to most of Charlotte's neighborhoods. If you are planning on moving to Charlotte, then midtown is a neighborhood you can grow into as it's among the fastest-growing in the queen city.
South Park
If you are looking for the perfect location to work, shop, have fun, and enjoy a quiet life, South Park is the place to be. It had a population of about 17,800 in 2015 and, which is now estimated to have grown to around 40,000. This means that the town is peaceful and quiet at night and noticeably busier by the day.
Now, South Park is a masterpiece of elegant living coupled with a collection of some of the most exotic amenities that you can visit. Charlotte is indeed a gem to behold.
The neighborhoods here say it all and are a testament to what you've already heard. The above neighborhoods are but a tip of the iceberg, and you might need to conduct more research on other great neighborhoods to live in Charlotte. From Myers Park to South End, Fourth Ward, and Plaza Midwood, among others. 
Comments
comments