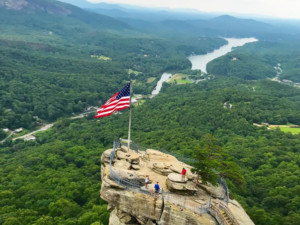 The United States of America is home to a magnificent diversity of landscapes and terrains. It's a treasure trove of wonders, from the tropical splendors of Hawaii to the verdant national parks of California and Alaska's frozen crevices. It takes an entire lifetime to explore the beauty and diversity in all its entirety. 
Nature photographers and wildlife enthusiasts have much to rejoice in as the US is brimming with picture-perfect landscapes. One feels spoilt for choice while picking a destination for photography endeavors. 
Are you focused on capturing scenic natural gems and awe-inspiring landscapes, such as the Grand Canyon? Or perhaps, you're more interested in capturing rare birds, wildlife, and exotic wildflowers? Either way, the United States is laden with hidden gems and mainstream tourist attractions to indulge in your passion for photography. 
Keep reading to explore some of the most incredible, most photogenic gems in the United States. 
1. Smoky Mountains National Park, Tennessee 
A landscape of exalting beauty, the Smoky Mountains National Park is the land of cascading waterfalls and alpine streams. Tucked at the tip of eastern Tenessee, the Smoky Mountains are home to the legendary Appalachian Trail. The trail will lead you through verdant greenery, wildflower meadows, and picturesque waterfalls. 
The national park opens up hundreds of nature walks and hiking trails that entice photographers with breathtaking sceneries. The snow-laced vistas form a magnificent backdrop, and every shot is picture-perfect. Seasoned photographers and adventurers take the road less traveled and venture out into the wilderness to capture rare splendors. 
It's wise to position yourself in a centrally located area to enjoy close access to the hiking trails and leading attractions. It's easy to find a budget-friendly bed and breakfast in the smoky mountains with a stunning view of the landscape. Pigeon Forge and Gatlinburg offer a plethora of luxury accommodations and glorious alpine cabins. 
Combine your photography endeavors with local festivals and rare experiences, such as hiking with synchronized fireflies. Head out to Cade Cove's to capture the golden rays of the sun melting into a background of soaring cliffs. 
2. The Grand Canyon, Arizona
Undoubtedly the most photographed site in the United States, the Grand Canyon is the ultimate landscape to test your photography skills. However, exploring the Grand Canyon isn't easy. It demands a stellar combination of physical fitness and the confidence to climb soaring heights without fear. 
Golden hours at the Grand Canyon are treasured moments for picture-perfect shots. The red limestone and daunting cliffs create an unreal landscape of sheer magnificence. The Grand Canyon is sprawling with hikes and climbs that will lead you towards exalting views of the canyon rim. If you're not willing to hike, consider taking a scenic drive along the South Rim of the Canyon. The picturesque route will spoil you with various stunning views, forcing you to pull over after every turn. 
3. Death Valley National Park, California 
Such an ominous and gothic name doesn't exactly inspire nature lovers to explore its expanse. However, you mustn't let the title keep you from exploring the breathtaking beauty of Death Valley. Contrary to what most believe, Death Valley is a lot more than a massive dessert. The National Park is laden with hidden gems and geographic wonders that are unbelievably stunning. 
For instance, the Mesquite Flat will delight you with the sensual movements of the dunes. The rolling dunes are picture-worthy with their vibrant tones, shifting with the direction of the sun. The Badwater Basin is another popular attraction with its salt polygons – a rare geographic wonder. 
Nature photographers flock to the Racetrack to capture the dramatic mud racks, sailing stones, and dunes. It's easy to feel spoilt for choice, for Death Valley is brimming with variety. The best times to visit are between December to February. You'll need pleasant weather to indulge in photography because it is notorious for heatwaves. Spring is an excellent time to capture rare wildflowers and exotic blooms. 
4. Yosemite Valley, California
Yosemite is a picturesque valley nestled in the heart of the Sierra Nevada Mountains. It is home to the most magnificent landscapes governed by snow-laced peaks and dramatic waterfalls. The Yosemite Falls are indeed the most stunning attraction in the region. Photographers also flock to Half Dome and El Capitan to capture nature at its best. 
Yosemite is a neverending fascination for nature photographers and adventure enthusiasts. One only has to explore the iconic black and white series captured by ace photographer Ansel Adams to seek inspiration. The potential for award-winning photography is endlessly vast, as long as you can hike, climb and explore the valley on foot. You can explore the hiking trails and nature walks that take you deep within the valley, full of stunning views. 
5. The Berkshires, Massachusetts
The ultimate destination for Newyorkers and Bostonites: The Berkshires. It's the perfect destination for a weekend getaway with enormous photography potential. This scenic hill station is most breathtaking in the fall, brimming with colorful foliage and dramatic visuals. We urge you to embark on the iconic Mohawk Trail – a 63-mile nature walk laden with splendid natural wonders. 
6. Zion National Park, Utah
One cannot create a roundup of picture-perfect US destinations without applauding the sandstone beauty of the Zion National Park. A treasure trove of nature's most breathtaking splendors, the Zion National Park is home to sandstone cliffs, verdant valleys, and the Virgin River. 
Nothing is more indulgent than capturing the Virgin River winding through the dramatic sandstone carvings of Navajo. Explore the tall and soaring canyon of the Narrows to capture vivid colors and exalting landscapes. Photography ambitions in Zion demand full physical fitness and functional canyoneering gear. 
Are you looking for a remote photography destination that takes you far from the maddening crowds? Head out to the Zion Canyon, a vibrant and picturesque oasis with a magnificent backdrop of sandstone. This less-visited destination is laden with spectacular gems, stony hills, and bighorn sheep. Don't forget to check out the Three Apostles Sunrise for some fabulous golden hour clicks. 
Conclusion 
The United States will leave you spoilt for choice when it comes to nature and landscape photography. Ultimately, you need to pick a destination that works well with your budget and photography ambitions. Destinations close to home are always the best in terms of accessibility and affordability. 
 Do you want to capture beachside wonders, alpine beauty, hilly valleys, or sandstone canyons? We urge you to understand your photography pursuits and find a destination that best aligns with your goals.
Comments
comments