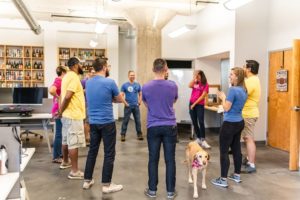 Franchising is becoming very popular among young entrepreneurs who look for an opportunity to open up a business venture that already has processes and branding in place. You can even say it is a relevant business that can help you make a good start. However, you cannot just buy a franchise without spending an ample amount of time researching the various aspects to find out what is most appropriate for you. 
No doubt, franchising is an excellent way to start a commercial venture, but before you invest, you should research the various unique options. From coffee shops to home improvement franchises, it is wise to learn as much as you can about the industry of your choice. Starting a franchise is different from setting up a business based on an original idea. Thus EJ Dalius guides you to understand what it takes to be an entrepreneur of a franchisee. 
Below is a step-by-step guide to help you set up a franchise, thereby starting a successful commercial business endeavor.
You must know what you are reasoning
There is no doubt that buying a franchise is financially and physically draining, but it is also emotionally exhausting for the entrepreneur. Thus before you make such a massive investment into purchasing a franchise, you must be confident in knowing what you want. Some people mistakenly think that owning a franchise is much easier than owning other types of ventures. However, it is not true becausethe ownership of the franchise comes up with multiple challenges.
Indulge in exhaustive research to understand which franchise is going to be appropriate for you
You should not go for a franchise that is popular because it might not be suitable for you. Do not take up your research and franchise lightly. You must dedicate a few months to understand the process and aspects and the strategies before concluding. 
You must be smart enough to choose a franchise that has an excellent track record of being profitable for multiple entrepreneurs.

The location of your franchise should be in adeveloped market.

Do not get into the franchise partnership with companies that are not socially responsible.

It is good to have competition around your business but having too much competition can even break your business. Too many competitors in a local industry can even destroy prospectives of sale. 

Budget is an essential factor in choosing a franchise. You have to select a franchise that fits into your account, including the fees and other expenditures. 
Understanding the technicalities of the application process
After exhaustive research, many people decide on a particular franchise, then comes the time to initiate the application process. You must hirea franchisor attorney to understand the legal technicalities associated with the franchisee ownership documents. Franchisors look for the following aspects:
They try to evaluate your financing capabilities

Understanding your background, which includes both educational and your work background.

Thelocation of your franchise.

What is the reason behind choosing a particular franchise? 
Set up a face to face meeting with your prospective franchise
You must meet the owner of the prospective franchisee before signing the ownership agreement. Due to COVID, these meetings get organizedvirtually now. Many franchisors undertake a virtual tour of the franchise to understand the place you will invest. Some people set up a face-to-face meeting right at the beginning of choosing a franchise, and many people keep the discussion on hold till the end. Depending on your requirement, you can arrange for a meeting with the franchisor. Still, it is highly advisable that at least once you should have an appointment to understand the technicalities involved in the ownership and application process. 
Use best techniques to review your franchising paperwork
You must know that franchising contracts are very lengthy, and it comes with confusing vocabulary. Hence, you must consult a professional attorney who can help you with the entire legalities and technicalities. Only when you hire an experienced attorney you will know how to carry out the process in an effortless manner. Any mistake in the legal language might lead to multiple issues later. Eric J Dalius points out that you must make a franchisee agreement that is clear and straightforward in all legal aspects. 
You may either rent or buy a location for your franchise
After choosing the city or town where you want to set up your franchise, then it is time for you to either rent or buy a commercial space. Location plays a significant factor in generating profitable business. If you set up a vibrant-looking franchise without thinking about the area, then you might go wrong, leading to the failure of your enterprise. Thus you have to make prudent investments according to your target audience.
Why do you need a franchise attorney?
You must hirea franchise attorney who can help you to conduct the process smoothly. They can guide you to execute in a very diligent manner. You need professional attention to help you understand the key provisions in any franchise document. Only when you are fully aware of the obligations and responsibilities that come with the franchise agreement, you can set up a franchise in a successful manner. If you do not adequately understand the legal document's key provisions, it might become challenging for you to grow your business. Onlyan experienced franchise attorney can help you navigate the standard compliance to come up with an agreement that is acceptable at all legal levels. 
Your failure to hire a reasonable franchising attorney might make you fall into some compliance trap, thereby confronting various compliance issues later. Thus you must know your obligations and expectations to work in a coordinated fashion. Eric Dalius says that a competent attorney will also give you knowledge about various industry norms to have additional insight into the proper working of the franchise system. Only when you know what you want to achieve precisely, you can come out victorious. So keep in mind all these aspects.
Comments
comments