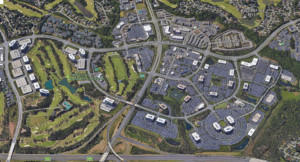 In the early 90s, the Ballantyne Corporate Park became one of the largest developments in Charlotte's history – it's now become the largest real estate sale in Charlotte's history.
Back in January, we first reported about the rumors that New York-based Northwood Investors (parent company of Northwood Ravin, who built The Vue) was looking into buying the entire Ballantyne Corporate Park.
A total of 40 deeds were recently filed with the Mecklenburg County Register of Deeds office, which confirmed the sale of the corporate park to Northwood Investors, for a total price of about $1.2 billion.
The entire 535 acre Ballantyne Coporate park includes over 4.5 million square feet of office space, 4 hotels with a total of almost 600 rooms, an award winning golf course, and over 400,000 square feet of retail space.
Northwood Investors haven't yet stated what, if any changes they plan on making to the development, but there is certainly plenty of room to grow. Several sections of raw land that were included with the deal have zoning in place that would allow for about 1.5 million additional square feet of office space (about as much office space as is in Duke Energy's 48-floor "handlebar" skyscraper in Uptown).
The Ballantyne Corporate Park was originally announced in 1991, before 485 was built, and while the land was nothing more than "a 2,000-plus acre plot of hardwoods littered with pine scrub and North Carolina underbrush," according to Ballantyne's historical records.
The developer, Smoky Bissell decided to undertake the ambitious project after successfully building much of modern day South Park. He partnered with the Harris family (who had owned the South Charlotte farm land for generations) to build the sprawling new speculative office project. Bissell purchased the initial 414 acres from Harris for just over $20 million.
It seems Charlotte is quickly evolving from a small city, built by local investors and developers, into a global powerhouse, with an increasing number of outside investors, developers, and influences.
How do you feel about the continued transformation of our city? 
Comments
comments