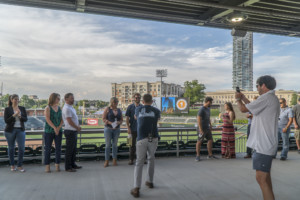 To celebrate their summer opening and inspired by their dedication to community involvement, Ascent Uptown just gave away over $3,000 in prizes yesterday at the BB&T Ballpark to wrap up their first ever #UptownStunner Photo Contest!
The contest was open to anyone with a camera (or smartphone) and a social media account.
Photos were submitted between May 16th and May 21st. On May 20th, the Ascent Uptown team selected twenty of their favorite submissions for the public to vote on.
We then posted the photos on Tuesday, May 23 and gave the public a week to vote for their favorites.
These are the top 20 finalists – be sure to click on the links of your favorite photographers to follow them on Instagram:
20. #UptownStunner by @johanrol
19. #UptownStunner by @mattshdr
13. #UptownStunner by @papacubby
8. #UptownStunner by @geralo07
6. #UptownStunner by @unclejut
5. #UptownStunner by @cj_byers
Yesterday the Ascent Uptown team rented out part of the BB&T Ballpark to honor all the top 20 finalists and announce the top 3 winners of the #UptownStunner photo contest.
I took this live video of the announcement:
When I went back to analyze the full reach of the campaign, I was honestly surprised at how well it did. We ended up receiving a total of over 6,000 photo submissions on Instagram, Twitter, and Facebook, with a total reach of over 250,000 people.
The Ascent Uptown's photo contest truly was an Uptown Stunner!
Comments
comments