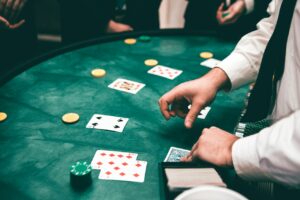 As North Carolina's economic and cultural landscape continues to evolve, gambling legislation discussions have gained prominence within the state. Historically, North Carolina has maintained stringent regulations, offering limited legal options for gambling enthusiasts.
However, as the state experiences a diverse economic landscape and a growing interest in gambling activities, ongoing debates and recent developments have illuminated the potential for changes in its gambling legislation.
This article aims to provide a comprehensive and factual overview of the current status of gambling legislation in North Carolina, drawing on verified sources to present a well-rounded perspective.
The Legal Status of Gambling in North Carolina
In North Carolina, gambling laws have historically been quite restrictive. The state's constitution explicitly bars the majority of gambling activities, including casino games, sports betting and online gambling.
As of September 2021, the state's only legal forms of gambling were the North Carolina Education Lottery and limited forms of charitable gambling, such as raffles and bingo.
Tribal Casinos
However, the Eastern Band of Cherokee Indians, recognized as a sovereign nation, operates two tribal casinos in the state: Harrah's Cherokee Casino Resort in Cherokee and Harrah's Cherokee Valley River Casino in Murphy. These casinos offer diverse gambling options, including slot machines and table games, exclusively to patrons aged 21 and above.
Recent Developments
Recent years have witnessed growing discussions regarding expanding gambling opportunities in North Carolina. In 2021, Senate Bill 688 was introduced to explore the possibility of legalizing sports betting, online gambling and constructing new casinos in the state.
You can learn extensively about the top online gambling platforms, and for more information, click here to review such platforms, which will ultimately help you determine the most suitable casino for yourself.
Potential Benefits and Concerns
Proponents of expanded gambling legislation argue that it can yield substantial tax revenue for the state, create jobs and boost tourism. They often point to the success of neighboring states like Virginia and South Carolina, which have recently embraced expanded gambling.
On the other hand, critics express concerns about potential negative social impacts, such as problem gambling and addiction.
Public Opinion and Political Landscape
Public opinion on gambling in North Carolina appears to be divided. Several polls indicate that most residents support legalizing sports betting and expanding gambling options.
However, any significant changes to the state's gambling laws would require careful consideration and legislative action.
Legislative Process and Future Outlook
The introduction of Senate Bill 688 in 2021 marked an essential step towards potential gambling expansion in North Carolina. However, it is noteworthy that the legislative process can be complex and time-consuming.
Any changes to the state's gambling laws would require extensive debate, potential amendments and a final decision by the General Assembly and the governor.
Final Thoughts
North Carolina's gambling legislature remains relatively restrictive, with limited legal options for residents and visitors. While tribal casinos operate within the state, the exploration of expanded gambling legislation, including sports betting and online gambling, is ongoing. Public opinion and political dynamics will play a crucial role in shaping the future of gambling in North Carolina.
As the discussions continue, policymakers must carefully balance the potential economic benefits with the social concerns associated with gambling.
Comments
comments