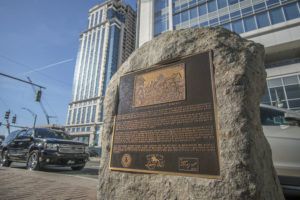 This holiday season, Sustain Charlotte and OrthoCarolina have partnered to give the gift of exploring Charlotte by walking with friends and family with #WALKCLT 2020. Now in its fifth year, this annual event goes digital and expands from a one-time evening event to a month-long campaign that encourages Charlotteans to explore new neighborhoods, public art, and pathways that can only be discovered on foot.
The campaign will launch on Giving Tuesday (December 1st), with a 'Giving Back Tuesday' release of the digital portal, loaded with the first two tours of a 5 tour collection. A new walking tour will be released each week and will include a detailed map along with curated content like Spotify playlists to make your walk more enjoyable. All content is free!
"Walking is one of the few activities we could enjoy outside of our homes this year," says Sustain Charlotte's Bike + Walk Program Coordinator Eric Zaverl. "That is why #WALKCLT couldn't be more critical for an auto-centric city like Charlotte. Having a walkable community makes it possible for residents to thrive socially and economically while improving our overall health."
WHEN: December 1 – 31.
HOW IT WORKS: Participants will visit https://www.sustaincharlotte.org/walkclt to grab a QR code that will allow them to access the maps and playlists via Linktree on their mobile device. Load it up and walk!
WALKS: The areas of Charlotte included #WALKCLT are: Wesley Heights, UpTown, NoDa, and the West End. There are also opportunities and tools to 'create your own adventure' and to incorporate earth-friendly undertakings like cleaning up your neighborhood while you walk.
LEARN MORE: Learn more by visiting: https://www.sustaincharlotte.org/walkclt  #WalkCLT
Comments
comments