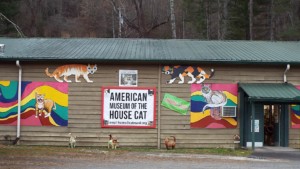 The American Museum of the House Cat has recently opened in North Carolina – an extensive collection of all things house-cat related.
The collection includes: Fine "picture art" going back to the late 1800's, modern art, folk art, rare advertising art, cat poster art, art glass cats made by the finest glassmakers of the world, vintage and antique toy cats, many of which are automations from the 1890's, vintage advertising, where cats are used to sell items, advertising clocks and storefront or window display items, etc.
For the last 35 years, Harold Sims' (known to many in Western North Carolina as 'Cat Man') collection filled most of the rooms in his home, as well all of his garages and outbuildings and halls of his home.
The museum location in Jackson County is at: The Gateway to the Smokey Mountain National Park, the nation's most visited park on a major highway (US 441) leading to Atlanta GA to the south, and to Cherokee, Harrah's Casino, Pigeon Forge and Gatlinburg TN to the north.
Here's a video of a tour of the new American House Cat Museum;
The museum will help the cat shelter by giving all profits to the Catman2 Cat Shelter.
Comments
comments