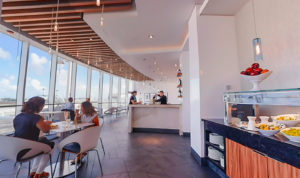 American Express today announced plans to open the fourteenth location in its signature airport lounge network, The Centurion Lounge, at the Charlotte Douglas International Airport, which will become the largest location in the network.
Opening in 2020, the Centurion Lounge at Charlotte Douglas International Airport will be located post-security on the top floor of a new expansion at the intersection of Concourses D and E, near the airport's central Atrium. Spanning more than 13,000 square feet, this location will be the largest in the Centurion Lounge network, and floor-to-ceiling windows will offer sweeping airfield and downtown skyline views. The new lounge will also feature the exceptional amenities found across all Centurion Lounge locations, including complimentary food and beverage from top chefs, mixologists and wine experts, a family room, premium restrooms and shower suites, access to high-speed Wi-Fi, noise-buffering workspaces and more. The Centurion Lounge at Charlotte will also lean into local food, beverage and design influences.
"We are excited to welcome The Centurion Lounge to Charlotte Douglas International Airport in 2020," said Ted Kaplan, Director of Business and Revenue, Charlotte Douglas International Airport. "As the sixth busiest airport in the country, we are constantly seeking ways to improve the customer experience at the Charlotte Douglas Airport. The opening of the Centurion Lounge will fit that bill by providing the Platinum Card and Centurion Members among our 46 million yearly passengers a premier space to relax and take in the sights of Charlotte Douglas before heading off to their next destination."
Current locations of The Centurion Lounge include New York's LaGuardia Airport, Las Vegas' McCarran International Airport, Dallas/Fort Worth International Airport, San Francisco International Airport, Miami International Airport, Seattle-Tacoma International Airport, Houston's George Bush International Airport, Hong Kong International Airport and Philadelphia International Airport. In addition to The Centurion Lounge at Heathrow and Charlotte Douglas International Airport, American Express recently announced new locations coming to New York's John F. Kennedy Airport, Denver International Airport and Los Angeles International Airport.
The Centurion Lounge is the signature lounge program within the broader American Express Global Lounge CollectionSM, which provides Platinum Card Members and Centurion Members with access to the most lounges across the globe compared to other U.S. credit cards, including access to more than 1,200 lounges around the world, in 500 plus cities, across 130 countries and counting.
Comments
comments