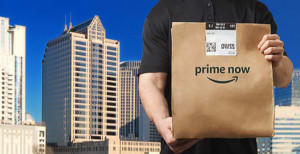 Meteorologists are now calling for up to 5 inches of snow today, and for Charlotte residents, this means only 1 things – buy as much milk and bread as humanly possible.
While local stores often run out of the two staples, Charlotte residents now have a new place to turn for their panicked last-minute milk sandwich buying sprees – Amazon.
The online retail giant recently launched their new 'Prime Now' delivery service in the Queen City, allowing Charlotte Prime users to have select products delivered to their doorstep in under 2 hours for free and in under 1 hour for an extra $4.99.
Thankfully, they've already stocked their Prime Now pantries with an abundance of all kinds of milks;
and an even bigger selection of breads;
Charlotte residents can now do all of their pre #snOMG panic shopping from the comfort of their own home – even at the last minute!
Thank you Amazon!
Now please move your second headquarters here – we may not know how to handle snow, but we certainly know how to grow businesses!
Comments
comments