Amazon has just finalized plans to build a new $85 million, 1 million sq.ft. foot distribution center in Kannapolis, bringing 600 new jobs to the region.
The facility will be built on 117 acres near the intersection of N.C. Highway 73 and Kannapolis Parkway, thanks in large part to a newly approved incentive grant by the city of Kannapolis for $562,275.
This new expansion is in line with Amazon's recent moves to invest heavily in its order-fulfillment capabilities, opening more warehouses and expanding same-day delivery. They currently operate 48.3 million square feet in North America, in 96 total distribution centers.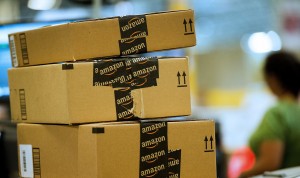 The increased investments make sense when you consider that Amazon spent $8.6 billion on order fulfillment last year, which was almost double the $4.6 billion the company spent on order fulfillment just a few years ago in 2011.
Their new expansion tactics will allow them to cut out UPS and FedEx and their distribution networks. Once they complete their own full-scale distribution network, Amazon will be able to keep goods in its network until they're almost at their destination, then use the U.S. Postal Service for the last leg of delivery. They have even been talking about even using flying drones to deliver the goods to their client's door steps in the near future.
Amazon's newest distribution center in Kannapolis is now expected to open sometime in 2019.
Comments
comments