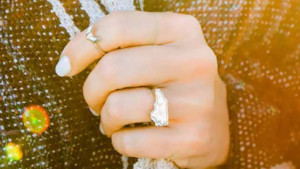 When you are planning a proposal, one of the most important decisions you will have to make is choosing an engagement ring. This is one purchase that your future wife will hold against you for the rest of your life! If you are planning to surprise your beloved with a stunning ring on proposal day, you will need to do your research and design a ring that you are sure she will love. This can be hard, especially since you will not get her feedback during the design process.
From the right setting for a ring to the type of band, here are some tips to help you come up with the perfect engagement ring for the woman that you love.
Find the correct band size
This is pretty basic but extremely hard to get right. Make sure that you measure your fiancée's finger accurately before you start designing the ring. This will allow you to avoid the awkward situation of having to get the ring resized before she can start wearing it. The tricky part here is how you can measure her ring size without arousing suspicion. One option is to borrow a ring that she already owns and have that ring sized—make sure it is a ring that she wears on her ring finger. If your beloved sleeps soundly, you can even try to measure her finger with a length of string in the middle of the night!
Choose a precious metal
Traditional engagement rings are often made from precious metals such as platinum or gold. These metals have a classic look that will withstand the test of time. However, they are also quite costly so consider other metals if you have a limited budget. Look at the rings that your fiancée wears to get an idea of the type and color of metal she likes. If she has a mixture of gold and silver jewelry, you can design a mixed-metal band so that her ring will go with all the other pieces that she wears.
Choose a stone
The most important part of an engagement ring is the gemstone. The type of stone that you choose will depend on the type of setting you plan to have as well as your budget. Diamonds are the most popular type of engagement stone due to their classic appearance and durability. If you find diamonds boring, remember that they do not have to be the conventional clear color. Diamonds can come in blue, pink, green, and even black! Should you want to be a little different, choose another type of precious stone such as sapphires or rubies instead.
Choose how many stones
Aside from the type of stone, you can also choose how many stones you want in your engagement ring. The simplest type of ring features only one center stone. However, you can add smaller stones alongside the main stone or design a ring that features several stones of the same size. You can even have tiny stones set into the band for the ultimate shimmer effect. A single, large solitaire stone often costs more than several smaller stones, so your budget will also affect your decision. If your fiancée loves color, having multiple stones is also a good way to incorporate different gems.
Consider the setting
The way the precious stone is set into the ring has a huge impact on the overall look of the ring. Traditionally, engagement rings are set in a solitaire style that focuses on the beauty of the center stone. For a more dramatic look, consider having a halo of diamonds surrounding the center stone; this works well for smaller center stones. Even between these two choices, there are a variety of ways to customize the ring to make it unique. The variety of choices can be overwhelming so take some time to think about it and discuss your options thoroughly with your jeweler.
Consider her lifestyle
One factor that will influence the design of the ring is the type of lifestyle that your fiancée leads. The last thing you want is for your future wife not to be able to wear her ring when she is doing the things that she loves. If she is active and enjoys working with her hands, choose a low-profile setting that can withstand wear and tear and will not easily snag on objects. Similarly, if she works in a non-profit organization or a place of worship, she might prefer a more understated ring. However, if your fiancée is a high-flying corporate executive, an expensive and elaborate ring may be just want she wants.
Get expert advice
When in doubt, talk to her friends and family. You should also work with a trusted jeweler that will provide you with ample advice. An experienced jeweler will be able to guide you through the pros and cons of each choice and help you to select the ideal ring for your fiancée. If you cannot find the perfect ring at a local jewelry store, you can order a custom engagement ring from an expert ring maker. With the intricate touch of a skilled jeweler, you can create a truly unique engagement ring that your fiancée will love to wear everyday for the rest of her life.
Comments
comments