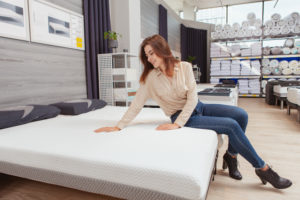 Purchasing your new mattress online can be confusing and overwhelming, not just because of the plenty of options out there. But there's also this fear you may not get the best, high-quality mattress you've always wanted. Buying online and going to a physical store may have the same goal but with a different procedure. For some of you, buying from a store can be challenging, especially if you're not aware which brand is best, which model fits you, and if you'll get a good deal. Sometimes if you want to widen your prices and mattress options, you'd need to visit different stores to check them all out, which can be time-consuming and costly. 
But if you prefer to buy online, you can go shopping in the comfort of your home even while in your pajamas. You can browse as many choices as you can and see many deals and prices from different online stores. Plus, you get to save so much from traveling and visiting multiple stores. But not everyone is familiar with online buying, especially with mattresses. It's not every day you buy a mattress. After all, the goal is to find a comfortable and durable mattress that could last a lifetime. 
So how can you buy a mattress online? Below is a quick guide to help you judge and pick the best mattress online before checking out with your credit card. 
The first thing to consider before browsing mattresses online is your preference. This would be your sleeping position, what type of sleeper you are, and if you're experiencing any neck or back pain. If you're a side sleeper, you may want the contouring advantages of memory foam. To learn more, here's a full review of some of the best mattresses for side sleepers. 
Meanwhile, if you're a stomach sleeper, you may want a firm mattress to prevent your back from bowing out. If you heavily sweat every time you sleep, a mattress with a cool gel layer on top may be best. The point is to be mindful and thoroughly read every description of the mattresses to have an idea of which one is best for you.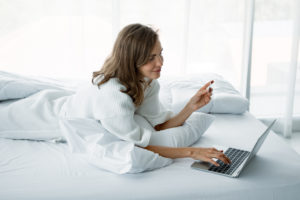 Now that you know what type of mattress you want, it's time to look for mattress brands. It's important to make sure the brand you're checking out is trusted and can guarantee you an enjoyable and comfortable mattress you can use for a long time. A trusted and well-known brand could ensure you an outstanding experience with their products, unlike the unknown ones.  
Another effective way of finding out a good and trusted brand is through online reviews. If you already have specific mattresses that interest you, you may check reviews and see what past clients think about their products. You may also check their customers' level of satisfaction during the delivery process. When looking for reviews, it may be best to look through third-party sources to avoid those exaggerated manufacturer testimonials. If any of the brands you're considering have some awful reviews, you might want to move on to the next brand. 
One of the advantages of buying a mattress online is the ease of navigation. This also means it's much simpler to check different mattresses based on their prices. 
A mattress can be an expensive investment, so if you've already set a budget for it, try to be firm and stick with it. It can be so easy to go overboard with your budget once you're exposed to numerous choices, but your budget will keep you on track during your search. You can navigate through the several models available within your price range. Once you find your preferred mattress model within your price point, it would be easier to find the mattress that meets your specific needs.  
Check For The Mattress's Maintainability 
Once you've handpicked a mattress from a certain brand, don't forget to consider its maintainability. Some mattresses are harder to maintain than others. It may be best to consider a mattress with a washable and removable cover. Mattresses will get dirty and dusted over time after a long time of use. So a washable feature could significantly help you maintain and extend your mattress's lifetime. 
Check The Company's Return Policy 
Before checking out your chosen mattress, it's important to go through the company's return policy and see if it works on your terms. Defects and damages may happen during the delivery process, so you might want to have them returned or exchanged. Some brands may not allow return policies, which can be a downturn on your side. Thus, try to go for companies that offer favorable return policies so you can get a full refund in case your mattress has any damage or defects. 
Wrapping Up 
Now that you have an idea of how to buy your mattress online, you'd have a greater chance to get your best, high-quality mattress without spending much money on visiting physical stores. So keep these tips in mind, and once you already have the budget for your desired mattress, you can now start browsing through different stores online.
Comments
comments