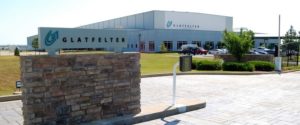 One of America's leading paper suppliers has just announced plans to move their entire headquarters from Pennsylvania to Charlotte later this year.
Glatfelter, a paper manufacturer and distributor, said that they made the decision after they sold their specialty paper division and reduced their Pennsylvania workforce by 90%.
In a press release, Dante C. Parrini, the company's Chairman and CEO, said; "Our decision to move Glatfelter's headquarters to a larger metropolitan area is another important step in our ongoing transformation. Charlotte provides enhanced access to a larger pool of critical resources and talent for future growth, and the Carolinas are a leading hub for the broader nonwovens industry. Additionally, being near a premier airport like Charlotte Douglas International allows for easier and more efficient business travel."
The company started in York County, PA in July of 1864 after Philip Henry Glatfelter purchased a small stone paper mill.
Last year, the company's 2,600 employees generated over $928 million, according to their most recent financial statement.
Comments
comments