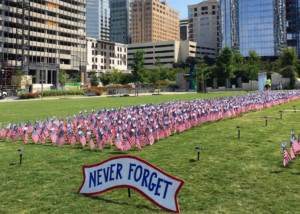 Charlotte's 9/11 Flags of Remembrance Memorial
Romare Bearden Park (300 S. Church St) will honor the victims and first-responders of 9/11 this year with services and a display.
A memorial featuring 2,977 flags set up in the shape of the World Trade Center Towers will be set up on the lawn. A ceremony hosted by the members of FDNY E-217 will begin at 8:15 a.m.
A bell will ring at 8:46 a.m., 9:03 a.m., 9:37 a.m., 9:59 a.m., 10:03 a.m., and 10:28 a.m. to honor the attacks that occurred at those times.
The memorial will be available to visit through Tuesday, Sept. 12.
Day of Remembrance at Rocky River Elementary
Rocky River Elementary was picked as 1 of 50 schools to receive a grant from Youth Service America to honor military families on 9/11. Forty military families are expected to attend with one family in each homeroom this morning as the students learn about the sacrifices that service men and women make on a daily basis to keep us safe and free.
Flag display on Sutton Road bridge in Rock Hill
Patriots of Rock Hill, S.C. will be on Sutton Road between 7-9 a.m. and 4-6 p.m waving a massive flag display to honor Mr. Leonard A. Farrington, who passed away in 2012.
The flag will be displayed over I-77 as thousands of motorists pass through the region.
Cornelius 9/11 Vigil
Members of the Cornelius Fire Department will honor the fallen on 9/11 with a community vigil. The event will feature a single bell toll and moments of silence for when each plane crashed on 9/11, as well as the moment each of the twin towers fell. The event is being held at the 9/11 monument at 19729 S. Main Street in Cornelius.
For more information or to donate to the Cornelius 9/11 Monument, including private or corporate sponsorships, please click here.
Comments
comments