I come from a long line of nervous people who think about how to protect themselves in almost every situation, real or imagined. From an early age, I have been taught to be aware of my surroundings. I think about escape routes; I carry pepper spray and a Maglite flashlight. I took a self defense class a long time ago, and after doing the research for this story, I see a refresher course in my near future.
There are several companies in the community offering one-time and on-going self defense classes. They are serious about what they are doing and have a genuine interest in helping people protect themselves. In some cases, they have a personal history with being attacked and want to make sure that this doesn't happen to others.
"WAR" – Women's Awareness Response
Mecklenburg County Sheriff Irwin Carmichael teaches a self defense class based on his interviews with criminals. This is a free 35-minute seminar offered to community organizations like churches, schools and businesses. Carmichael also offers a two-hour class, twice a year, that focuses on five attack scenarios.
Website: Martial Arts Training Institute
Phone: (704)391-9999
Address: 9306 Beatties Ford Road, Huntersville
Cost: Free community seminar with at least 20 participants; $40 for two-hour class
Fight Like A Girl
Fight Like A Girl offers one-two hour classes on awareness and prevention each month. Their instructors focus on physical and escape techniques, and how to handle someone with a weapon. Everyone is welcome: men, women and children.
Facebook: Fight Like A Girl Charlotte
Phone: (704)806-8017
Address: 2020 Remount Road, Suite E100, Gastonia
Cost: $30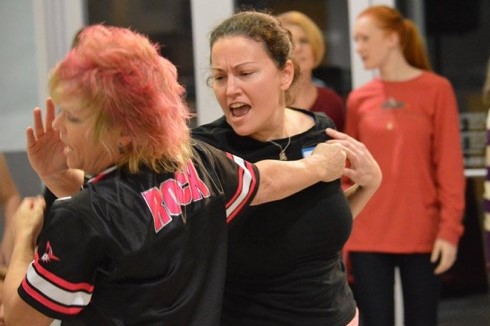 Starks Training Institute, Inc.
Dan Starks has more than 20 years experience as a personal safety expert. Classes for Concealed Carry and Safety and Awareness are offered monthly. In his three-hour class, Starks teaches how to use an aerosol product, OC Pepper Foam, to protect yourself. Specialty classes for corporations, realtors, mall walkers and other groups are available.
Website: Starks Training Institute, Inc.
Phone: (704)392-SAFE (7233)
Address: Classes held at various locations
Cost: $150-$220
Kinchen Marial Arts, LLC
Master Cliff Kinchen teaches two-hour seminars, open to the community. Class covers legal considerations, awareness, prevention, defense and technique practice. Students in high school and above, receive a self defense tool as part of the class.
Phone: (704)237-0015
Address:  18535 Old Statesville Rd, Ste B, Cornelius
Cost: $40
Aikido of Charlotte
Learn awareness, assessment and action in a two-hour self defense class open to men, women and children, 8 years old and up. Instructors cover practical scenarios such as grabs, strikes, hair grab, date-rape and attacks from behind. Classes are taught by Sensei Dennis Main, 6th Degree Black Belt, Certified Senior Instructor and Sensei Jonathan Weiner, 4th Degree Black Belt, Certified Senior Instructor.
Phone: (
Address: 10230 Hickorywood Hill Ave, Suite A, Huntersville
Cost: $25
Fit to Fight
Fit to Fight follows the Krav Maga curriculum, an Israeli style of self defense. It is ideal for dangerous and unexpected situations.
Website: Fit to Fight
Phone:(704)814-0300
Address: 9129-135 Monroe Rd., Charlotte
Cost: $20 for a two class trial, continued participation requires membership
Charlotte Women's and Kid's Self Defense
Lynn Gorski teaches several self defense classes: Rape Aggression Defense (R.A.D.) classes for women and teens, nine-hours and three-hours; Resisting Aggression Defensively (radKIDS) for girls and boys, ages 5-12 years old, eight-hours and two-hours.
Facebook: Women's and Kid's Self Defense
Phone: (704)708-9137
Address: 17214 Lancaster Highway, Suite 301, Charlotte
Cost: $70 for nine-hour RAD, $30 for three-hour RAD, $60 for eight-hour radKIDS, and $20 for two-hour radKIDS
Master O's Black Belt World
At Master O's Black Belt World, Women's Self-Defense Classes are offered from 12-12:50 p.m. on Mondays and Wednesdays and from 11:00 a.m.-12 p.m. on Saturdays.
BYOB: Be Your Own Bodyguard
In the BYOB class at Hatcher Systema, Roy Hatcher teaches participants to be aware of their limitations, and he gives them the tools to get out of uncomfortable situations. Workshops are held at various locations around Charlotte. Join Charlotte meetup group to get latest information.
Photos: Fight Like a Girl, Snookysmiles Photography, Jaime Kahn, Rae Images, Sandy Lawrence, Lynn Gorski
Comments
comments