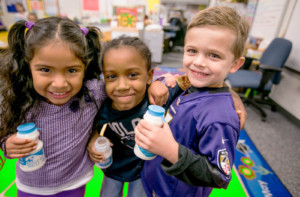 Nine schools across North Carolina were recently recognized at the N.C. Child Hunger Leaders Conference with N.C. School Breakfast Challenge Awards for using innovative strategies to increase participation in School Breakfast Programs and ensuring that their students start each day with a healthy breakfast. Breakfast Challenge Winners are the top three schools at each level – elementary, middle and high – that achieved the highest percentage increases in School Breakfast Program participation. The 2018 N.C. Breakfast Challenge winners achieved increases in School Breakfast Program participation in the range of 22 to 62 percent.
Elementary

Gaston Elementary – 62 percent (Northampton County Schools)
W. McLauchlin Elementary – 47 percent (Hoke County Schools)
Central Elementary – 44 percent (Rockingham County Schools)

Middle

West Hoke Middle – 53 percent (Hoke County Schools)
Table Rock Middle – 31 percent (Burke County Schools)
Walter R. Johnson Middle – 27 percent (Burke County Schools)

High

Blue Ridge Early College – 28 percent (Jackson County Schools)
McDowell Early College – 27 percent (McDowell County Schools)
West Craven High – 22 percent (Craven County Schools)
"An important part of student success starts with a healthy breakfast at school," said State Superintendent Mark Johnson. "Students who eat breakfast do better in the classroom. The nourishment helps them pay attention longer and learn more easily."
All 115 local education agencies in North Carolina are included in the Breakfast Challenge, a partnership of No Kid Hungry North Carolina, the UNC Center for Health Promotion and Disease Prevention, The Dairy Alliance and the North Carolina Department of Public Instruction's School Nutrition Services Section. Due to the effects of Hurricane Florence, some schools were not eligible this year due to the limited number of days that school was open and serving meals in October 2018.
The goal of the challenge is to increase participation in School Breakfast Programs. Participation rates are calculated based on School Nutrition Program meals claim data provided by the N.C. Department of Public Instruction. Breakfast Challenge Awards are given based on the greatest percentage increase in participation over the previous school year. To increase participation, schools can explore a variety of ways to serve school breakfast, allowing more students the opportunity to eat a regular morning meal such as Breakfast in the Classroom, Breakfast Break, Breakfast Kiosk, Grab n' Go Breakfast, Second Chance Breakfast, and/or Universal Free Breakfast. The outcome is that students benefit from eating a healthy breakfast every school day.
Studies show that students who eat breakfast:
have improved attendance and less tardiness,
are able to pay attention longer,
demonstrate better behavior in the classroom,
perform better on tests,
make fewer trips to the school nurse,
have a better overall diet, and
are more likely to be at a healthy weight.
When a student eats a nutritious meal, he or she is ready to learn. School breakfast offers several connections to learning—students have the opportunity to eat a healthy breakfast each school morning closer to instructional time, students who eat a healthy breakfast are better able to focus on classroom lessons, and students can practice the nutrition lessons they learn in the classroom by making healthy choices with school breakfast.
Schools across the state are celebrating National School Breakfast Week March 4-8. Students, school staff and parents can take this opportunity to try breakfast at their school. To learn more about innovative School Breakfast Programs, visit the North Carolina Department of Public Instruction, School Nutrition Services website, https://childnutrition.ncpublicschools.gov/programs/sbp.
Comments
comments