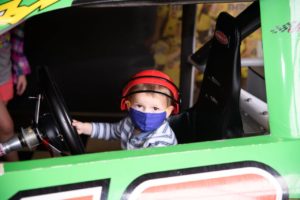 Knowing that you'll soon be joined by the pitter patter of tiny feet is an exciting time, but there's lots to be prepared for and arranged in advance of your new arrival. The interior design of nurseries has moved on a lot since the traditional pink and blue gendered décor of days gone by… but how can you make your child's bedroom look that little bit different to all their friends? Read on for inspiration…
Install a Gallery Wall
Instagram accounts that focus on interior design can be recreated cheaply and easily to create gallery walls of mix-and-match art prints, canvases, photographs and posters. The likes of Picture Hanging Systems offer wide varieties of hangers, adhesives and rails for different hanging solutions.
Make a Feature Wall with Wall Stickers
Painting walls needs to be done extra carefully around tiny noses and if you select too dark a shade, they can be difficult to cover up later on. Wall stickers are specially designed stickers that stick effectively to walls without risking the existing paintwork and are available in a whole host of designs. Feature walls using stickers can be swiftly changed as and when you want to and can be as characterful or as abstract as you'd like.
Hide Your Storage
Babies, toddlers and children have a lot 'stuff' and so plenty of storage space will be required. Using storage space as dual-purpose helps maximise space while not paring back on everything you need. Use the tops of toy boxes as arts and crafts tables, select seats with hidden storage within and put toys and cuddly items in baskets and easy-to-reach boxes so your little one can grab them whenever needed.
Stay Gender Neutral
The latest in interior design trends for nurseries do not reflect the traditional pink and blue gendered colour schemes but instead bold monochrome, rainbow brights or muted tans and browns. This not only dispels gender norms but also allows you to shop for your furniture, fixtures and fittings from more places.
Create a Book Nook
It's never too early to start reading to little ones and letting them feel and look at books. Setting up a cosy corner with blankets, cushions and some board books creates a safe space for your baby and you to enjoy some stories.
Make a Sensory Area
Electronic toys and cuddly teddy bears are lovely but the real brain development comes from sensory learning. A sensory area including different textures of fabric and items that make different noises can be hugely beneficial. These don't need to be expensive – try putting some rice in a water bottle to make a shaker and finding a tinfoil blanket for scrunching. 
Recycle Your Old Cot into a Teepee
Old cots can be taken apart and once the base has been removed, can be turned on their side and draped in blankets to make a teepee. This can be a good quiet space for reading or napping and make a great hiding spot for games of hide and seek.
Set Up a Movie Hub
You'll need to limit your little one's screen time, of course, but the odd movie afternoon just can't be beaten. A makeshift movie den out of a blanket with a tablet propped up and colourful cushions underneath can create the perfect snuggling spot to settle down to a few hours of cartoons. If you don't have a tablet or spare screen, invest in a smartphone projector and make your own cinema screen on any blank wall.
Nurseries can be hugely impactful on the formative years of children so ensuring yours is bright, bold and inspiring is critical. Get creative; and get ready to enjoy the coming years.
Comments
comments