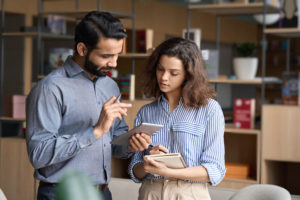 Everyone knows that the information technology industry is the fastest growing in the world. The IT sector has never been as in demand as it is today. 
The market still needs a considerable number of specialists and offers temporary employment. Statista reports that in 2021, spending on IT services worldwide is expected to reach more than 1.1 trillion USD, up 9 percent from the previous year.
With these cash flow infusions, the IT industry is becoming a lucrative career choice for aspiring professionals. Here are some reasons why you can achieve good career growth in IT.
Become a good specialist even without specialized education. 
Tech companies are keen to hire IT professionals because their demand is high, and there are not enough skilled workers to fill the gap. Because of this demand, those who have completed certified courses are accepted.
Therefore, even if you did not study for an IT specialist at the university, you can still become a highly paid and in-demand specialist.
2. Lots of career options.
The field of information technology intersects with a wide variety of areas of our life. Here are all spheres of business, healthcare, agriculture, aviation – anything in general. Thus, you can choose the project or task that is closer to you and is in the field of your interests.
Any software development company, like mlsdev.com, is looking for specialists who will be interested in their work. This means that by choosing the path to IT, you can select any career direction.
3.Good wages.
Forbes writes that certified IT professionals earn an average of $ 15,913, 22% more than non-certified IT professionals. Worldwide, these percentages can reach 45% in individual regions. The demand for technicians is high due to their unique skills. It makes such a specialist extremely important in the labor market. And different companies start to fight for you. So it means that it is you who set the wage bar.
4. Low cost of education.
Because you do not have to spend a lot of money on education in a specialized college or university, but simply take several certified courses, the cost of getting an education in IT is significantly reduced. After completing these courses, you usually get an internship and work as an intern or intern. That will allow you to immediately start making some money, in parallel with the experience.
It will save you vast amounts of money that you might otherwise have spent on your college years. The more knowledge and certifications you acquire, the more you advance in your career.
5. A rapidly changing and growing industry.
The information technology industry is much faster than any other industry, and for this reason, there is always a significant demand for highly skilled workers. Every day, the sector innovates with new programming languages, testing methods, and innovative technologies. Thanks to this, IT specialists are constantly learning something new and are at the height of innovation. And this is always incredibly interesting.
6. Fast career growth.
Because in IT you are forced to constantly develop and stay up to date with the latest technology, you become a specialist who begins to understand all the nuances of IT. And here, ample opportunities open up for you – you can go from a tester to a technical writer or programmer. From team lead to product initiator and project manager. Career choices are limited only by your desire. And the possibilities are endless.
7. The ability to work remotely.
Thanks to the pandemic, the world has learned that it is possible to work from home, which can be effective. At the same time, for an IT specialist, the situation has only improved – now recruiters and headhunters are ready to look for any specialist who has the right set of skills. 
Now it doesn't matter what city or country you are from. A whole world of – literally – vacancies open up for an IT specialist. It means there are even more options to find a suitable project and salary.
To sum things up
Information technology is an area of ​​excellence. These people are on the crest of a wave of new technologies and the most daring decisions. Software companies such as  https://mlsdev.com/services/custom-software-development are looking for and recruiting specialists to do the most audacious and exciting projects.
If you desire to become a part of this community, be mobile, keep abreast of the latest innovations in those sectors, and at the same time receive a good salary – it's time to join the IT world. After all, now you know that there are many reasons for this step!
Comments
comments