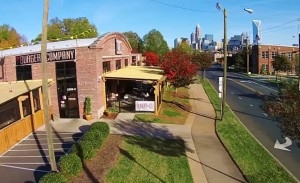 A university gives us the opportunity to learn, have fun, and sometimes even to start our own business. Here are some of the schools that encourage innovation.
A student loan can be a great burden even before you will be ready to send your first CV. Therefore, it is a smart move to start a business to have the first income while studying. Frequently, tutors and teachers from famous writing companies, for instance, WryteAnyPapers provide useful write my essay services to help their students get into universities and recommend seven startup-friendly universities.

Kyoto University, although located in one of the most traditional cities in Japan, has been a starting point for many innovative startups over the past 50 years. Kyoto is home to such global technology giants as Kyocera, Omron, and Horiba. The city has been a leader in the technology sector since its inception, and the university maintains this tradition with its globally recognized majors in engineering, technology, and biotechnology science. 
A notable alumnus: Yamanaka Shinya, Nobel Prize winner in Physiology or Medicine in 2012.
Technion – Israel Institute of Technology, Israel
The Technion is a leading university in science, technology, and applied research in a country with more high-tech startups per person than anywhere else on Earth. Many of Israel's leading engineers once choose it not only because of easy money, but because the university encourages its students to change life on the planet for the better.
A notable alumnus: Andrey Broder – creator of captcha technology and respected Google scientist.
The Arthur Rock Center for Entrepreneurship provides students and alumni with access to the university's resources to support the startups they create. Thanks to the wide network of the university, the success rate of those startups is quite high. If you have a business plan ready, you can apply for participation in the Venture Competition. Such projects as Blue Apron and ThredUp were born this way.
A notable alumnus: Sheila Lirio Marcelo is the founder of Care.com, an online directory of treatment and care.
University of Edinburgh, Scotland
This pioneering university has a long history of supporting emerging entrepreneurs, and in the 1960s, on its basis, the Edinburgh Innovations was established to commercialize research projects. In 2007, the university launched the LAUNCH.ed program to support the ambitions of young entrepreneurs studying there. Thanks to this program were created such projects as a company that solves communication problems in African villages, a cube that helps disabled children play music, and the first genetically modified vaccine against hepatitis B.
A notable alumnus: Alexander Graham Bell. The genius who invented the telephone.

Queen's University Belfast, Northern Ireland
Students of all majors are learning entrepreneurial skills at Queen's University Belfast. Just like the University of Edinburgh, this school has always been supporting the commercialization of inventions and startups created through research projects. There is a variety of departments doing this job. For example, in Innovation Commons entrepreneurs, consultants and investors are conscientiously exploring business opportunities. And Innovation Academy offers postgraduate courses in innovation and entrepreneurship.
A notable alumnus: Frank Pentridge is the creator of the portable defibrillator.
University of Twente, Netherlands
The University of Twente helps the Netherlands to be among the list of best countries for startups. It participates in the Kennispark Twente project – an ecosystem designed to support the development of startups. The project unites companies and innovative universities to work together. In addition, the university operates a number of funding programs aimed at achieving another goal of Twente – to become one of the leading regions in Europe in the field of technology.
A notable alumnus: Jap Hartsen is the man who created Bluetooth.
For decades, this university was a starting point in the career of many politicians and businesspersons. However, now it encourages students to create startups. Tokyo University has supported more than 240 startups through a range of initiatives such as funding, access to free office space, and legal and business advice.
A notable alumnus: Kano Jigoro, creator of judo.
Comments
comments