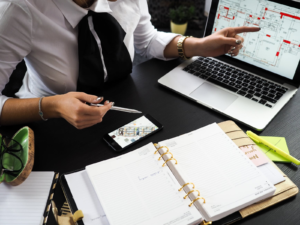 The Forex exchange market is a globalized financial market full of opportunities, profit, experiences, risks, and knowledge. But being an active participant in forex trading is not an easy task although it is quite accessible for people around the world to become forex traders. The good news is that there are many reliable ways to increase your knowledge about everything related to forex trading. Forex trading guides are specifically used to gain experience and improve one's fx trading skills. Most of the guides are easily available online for free while some written by veteran traders and other forex experts cost money. 
Any educational material that teaches readers about the do's and dont's related to forex trading could be called forex trading guides. Essentially, every forex trading guide has the following outline:
Identification market opportunities

Introduction to forex market movers

Ways to assess risks and market sentiments

Understanding technical & fundamental analysis

Reading charts properly

Examples for practice

 Definition of basic terms used in forex

Tips to maximize one's profits

A list of red flags to keep in mind

Difference between good and bad forex brokers

Review of several forex trading robots
In case a forex trading guide includes more than one of the abovementioned things, then it is worth your time. But we have mentioned 6 must-learn things from forex trading guides below;
Developing a personal trading strategy
Implementing a trading strategy is a guaranteed way to achieve your goals while trading different kinds of forex currency pairs using a brokerage platform of your choice. Forex trading guides help you understand how different trading strategies work by describing how they are created and for what purpose. Once you have a clear understanding of forex trading strategies, you can definitely build one for yourself to help you face all kinds of difficult trading challenges.
Calculating the risk/reward ratios
As mentioned earlier, in the world of forex exchange there are rewarding opportunities hidden behind considerable risks and that is why traders have to be careful at all times, or else they could lose their hard-earned money within seconds. Only detailed forex trading guides can teach you how to calculate the risks/reward ratio before opening/closing any trade to ensure the trader does not suffer losses that could have been avoided by being patient.
Knowing when to use different market orders
Forex trading allows you to place various kinds of market orders such as stop-loss and take profit orders. These specific market orders can help individual traders to limit their losses and acquire better profits at the end of each trading session. Stop-loss orders are used to avoid losses when your preset requirements are met and take-profit orders are basically there to lock in profits so that the outcome of trades is better and positive.
Deciding short/long trading position
Expert-level forex traders master the art of choosing their trading style every time they open a certain trade involving a better-performing forex currency pair. Forex trading guides always have a dedicated section to teach new and inexperienced traders how they can choose when to open a short or long trading position by keeping in mind their investment capital, risks, and investment goals. This decision is important because it ultimately determines whether forex would work for you or not.
Establishing an investment goal
Trading forex pairs using a broker platform and gaining knowledge through various forex trading guides is for naught if you do not have a fixed goal to achieve at the end of the day. Being goal-centric helps build your confidence in forex trading and gives you encouragement to improve your trading skills with time. Forex trading guides include many examples of how one can easily choose an investment goal to start getting better results.
Suitable forex pairs for you
Like other financial markets, if you lack the skills to look for a suitable trading pair at any given moment, you could be on the losing side. For a successful forex trading experience, a trader should know which particular fx pair is best suited for them. Without knowing this you cannot move forward and profit from trading forex. Luckily, forex trading guides help people figure out how to pick a suitable forex pair. 
Comments
comments