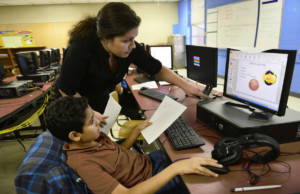 The Internet has already become an integral part of education. It enhances both teaching and learning experiences, providing a variety of tools and sources. Yet, not all websites and platforms are credible and safe to use. Online communication and protection of private information are a few more problems that raise concerns among educators. All these issues call for digital literacy training at schools.
Why Is Digital Literacy Important? 
Digital literacy is a crucial aspect of modern education. It prepares young people for emerging opportunities that digital tools can bring. Although technological proficiency is an important element of digital literacy, it involves much more. To be digitally literate means:
To have strong critical thinking skills;

To be aware of conduct expectations;

To follow ethical standards;

To respect the intellectual property of other people;

To take privacy precautions;

To be able to communicate and collaborate with others in a digital space;

To know how to find credible information.
The appropriate use of technology enriches the learning process and prepares students to behave responsibly on the Internet. Yet, this is not the only advantage that digital literacy can bring. Students also get space for creativity and self-expression as they can create their own content and share it with others. Extending education beyond a traditional classroom makes them more motivated and, thus, more active learners. Besides, digital literacy facilitates research and access to quality information. Therefore, it allows students to engage with the content in a variety of ways and formats to improve their social, cultural, academic, and intellectual life.
How to Boost Digital Literacy in Students 
Emphasize the Need to Evaluate Sources
The Internet provides students with access to any information they need. Any sources are only a click away. It is also easy to create and publish content. That is where the problem arises. In the absence of any control, people may post fake or biased information. To find credible and trustworthy content, students should know how to evaluate sources so they will not be misled. 
To teach students how to select reliable sources, suggest them to go through the following checklist:
Who is the author? 

Is his or her point of view biased?

What is the publication date of the source? 

Does the author provide any reliable evidence to prove his or her point of view? 

What is the purpose of the piece? 
Discuss the Importance of Digital Ethics 
Learning in the digital age becomes easier. By conducting online research, students can save and share information without any limitations. However, some of them may have a naive perspective, thinking that if articles, books, videos, and other materials are in open access, anyone can use them regardless of the purpose. Yet, they should understand how to use copyrighted material for nonprofit educational purposes. 
To avoid plagiarism and possible negative consequences, students must cite the ideas that belong to someone else. If you do not know how to do it, play it safe, and order essay in essayservice.com. Expert writers know how to make correct citations using any style (e.g., APA, MLA, Chicago, Harvard, etc.). 
Encourage Online Collaboration 
Learning is mostly a shared experience. Student-student and student-teacher online collaborations are an integral part of general digital literacy. To enrich the learning process, educators should teach students to develop and apply collaborative skills in digital environments. In the first place, it means encouraging shared projects, presentations, and reports. Services such as Zoom and Google Classroom, Google Docs, Drop, Wallwisher, and others enable the work in a collaborative digital space. 
To get even more from online collaboration, teachers need to design adequate instructions and prepare students for the task. The effective way to accomplish this is to discuss the features of effective teamwork on digital platforms. This activity allows teachers to set rules and expectations. 
Explain How to Protect Private Information on the Internet 
Privacy is the top priority when it comes to the use of Internet sources. Students should be aware of malware. It is usually spread by emails with fake links and suspicious files.  As an educator, you need to teach students how to identify such instances. For example, you can offer them to take a phishing quiz from Google. It provides some training and insights on the issue. Additionally, strong random passwords can also decrease the chances of disclosing your personal information. To protect their data, people also need to update their devices regularly, getting security-related fixes. 
Discuss the Importance of Digital Footprints
Our activity on the Internet is more public than many people may think. Everything a person shares, comments, or reposts forms his or her digital footprint. Online history is not always private. Internet users should keep an eye on privacy settings if they do not want advertisers to track their movements with the help of cookies. To show the importance of digital footprint, teachers can ask students to evaluate their online activity. This includes analyzing the most visited websites and apps, the content they post, and the privacy settings they set. Why is it important? Digital footprint shapes one's image for the public. It can even influence employment or enrollment chances. So, it is better to be thoughtful about activity on the Internet as a positive digital footprint can work in student's best interests.
Comments
comments