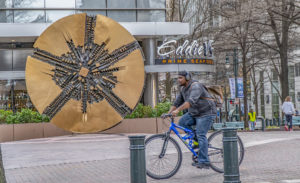 If you count among the large crowd of people seriously considering North Carolina as their next home, you've reached the right page. This place seems to have it all, ranging from wild mountainous scenery, gorgeous coastlines, impressively rich history, not to mention some of the most satisfying opportunities in terms of careers. What more could you want? There's no wonder everyone seems to want to move to NC nowadays. To make things easier on you, here are a few interesting things we believe you should know prior to moving to the Tar Heel State.
#1: Enjoy Prices Below The National Average
Living in North Carolina means enjoying a series of advantages such as lower costs of living and lower taxes, to name a few of the most important of them. You can expect the pay less to live better here, in short, thanks to the cheaper housing, healthcare, as well as utilities and transportation, and even grocery prices, all lower than the average prices found nationwide. You should be able to find  the best long distance movers in North Carolina at lower rates compared to movers in other states and parts of the country. This means you will get to save money some serious money on your long-distance relocation, whether you need full or partial packing and unpacking solutions, temporary storage, furniture disassembling, or something else. 
Plus, the taxes you will pay here are also lower compared to the national average, so choosing North Carolina as your future home is going to prove to be extremely rewarding in both the short and the long run. 
#2: Join A Thriving And Welcoming Community
An excellent perk you will get to enjoy upon moving here refers to the wonderful community you are going to discover here. NC has one of the most diverse communities with people originating in all parts of the country, and you will find a friendly gathering of people that will make you feel right at home with their tasty barbecues and refreshing beer served at all neighborhood parties. In fact, if you love a good brew, you are going to appreciate the rich craft beer scene that has blown here in recent years, with Charlotte and Asheville turning into genuine brewery hubs. More into wine? Not to worry, North Carolina is also the cradle of vines, as it counts over 175 of them, ranking in the 10th position in the US. 
#3: Get Ready To Spend Time In The Outdoors
The cold season is a very mild one here, which means you can expect pleasant temperatures in the winter and hot summer days. Just what you need to do some serious exploring in the great outdoors. Get ready to explore Lake Norman, the Great Smoky Mountains, or the US National Whitewater Center. If you are a big fan of golf, you are also going to appreciate the 600+ golf courses in North Carolina.
#4: North Carolina Has Top Schools  
North Carolina is home to no less than four different highly-acclaimed med schools found at:
East Carolina University

Duke University

University of North Carolina at Chapel Hill

Wake Forest University
There are also numerous modern hospitals found in Charlotte, with over one hundred community hospitals, while the Research Triangle specializes in critical care.
#5: There Is A Higher Risk For Hurricanes
While you may find the overall weather pleasing here all year long,  should you decide to move to the coastal region, you should brace yourself for the enhanced risk of hurricanes there. In fact, hurricane season usually runs starts in June and spreads till the end of November, so make sure you invest in appropriate insurance.
Comments
comments