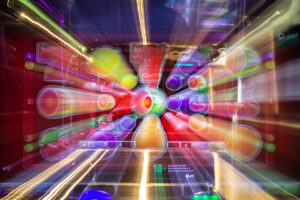 In and around Charlotte, there has been a great deal of attention lately to the Catawba Nation casino that was opened on I-85 near the South Carolina border. Its 1,000-plus slot machines have proven to be a popular draw, and the addition of a sportsbook is bound to be a hit (particularly as we head into football season). As exciting as it is to have a property like this open nearby however, those who are interested in the gaming side of things would do well to take note that online casino gaming is also becoming more prevalent.
According to Forbes, gambling revenue in the U.S. reached a record $53 billion in 2021. And the majority of this revenue was earned by in-person casinos, online activity accounted for 15% –– demonstrating that internet-based casinos are breaking through (despite only being legal in a handful of states). Specifically, slots –– which the Forbes report referred to as "a sweet spot for casinos" –– are attracting attention, just as they do at the Catawba Nation property.
Now, for people in North and South Carolina, real-money gaming at online slot sites is still prohibited. But the games can be accessed for fun, and with the momentum toward legalization we've seen in other states of late, it's conceivable that our region will see legal and regulated online casinos in the near future. So with this in mind, we've decided to highlight some of the top games in the category in 2022.
1 – Lantern Luck
Many of the best slot arcades are those that dive into distinct histories or locations. Lantern Luck by Habanero does exactly this, transporting players to a dream, idyllic version of a Far East setting. A traditional slot reel is replaced by columns and rows of ornate Chinese lanterns whizzing by beneath a sort of pagoda –– all on a bridge over a walkway, with flowering trees, lanterns, and seaside cliffs in the background. With soothing (yet energetic) audio as well, it's a truly pleasant game to sit and play for as long as you like.
2 – Banana Town
If you spend much time exploring the wider world of gaming, you'll quickly notice that despite the extraordinary capacity of modern game design, there's an enduring love of pixel-style graphics. An article at Medium dug into what's behind this, and essentially chalked it up to a "calming and nostalgic warmth" that many who grew up with more pixel-heavy games (from Zelda to Pokémon) like to tap into. It's at least partly for this reason that there are a lot of modern games that pass over modern graphics and embrace the pixels –– and Banana Town is the best example of this approach at online casinos. Designed by Relax Gaming, this delightful slot is all about different banana characters, in and around the slot reels. They're presented with seamless animation, yet in a way that makes the game feel like a vintage '90s arcade experience.
3 – Big Bass Splash
Big Bass Splash is a Pragmatic Play that has seen its popularity take off of late. It builds on an already successful "Big Bass" series, and as of this writing is the top game featured among the slots at Foxy Games –– a very visible platform. As far as we're concerned, the game has earned this notable attention. The fishing theme manifests in a sunlit underwater setting, bait (like little mosquitos) and different fish take the place of slot games, and there's even a bazooka-fishing bonus. All of this plays out via cartoon-style graphics with fast, twangy music in the background, making for a slot experience that's pure fun.
4 – Day Of Dead
This is another Pragmatic Play product, and in fact another one for which "pure fun" is an apt description. Playing off of the Mexican "Day of the Dead" celebration, the game packs in traditional imagery associated with the event. That means characters dressed and painted to look like skeletons, colorful musical instruments, ghosts, gems, coins, and –– best of all –– a full animated skeleton playing the guitar. Mexican-inspired music caps it all off, and helps you to feel as if you're actually participating in a Day of the Dead celebration with just a few spins.
5 – Jungle Jim El Dorado
Jungle Jim El Dorado is a slot by Microgaming –– an experienced developer, and one we actually mentioned among the reasons for an online casino's success in Japan in a previous article. The company has produced a lot of excellent games, but Jungle Jim El Dorado is certainly one of the best. It revolves around a jungle explorer reminiscent of several other gaming and film characters at once. "Jungle Jim" is deep in an unspecified jungle among stone ruins, observing the treasures that fall into place on an unseen slot reel. As you land specific symbols and winning combinations though, the character progresses along his journey to find El Dorado. It's a wonderful construct that makes for a very fun game.
You'll find more slot games to enjoy the more you explore. As of 2022 though, these are without a doubt some of the best.
Comments
comments