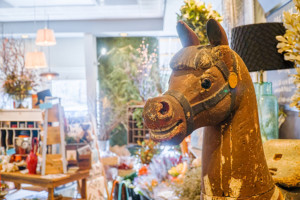 There is nothing more exciting than watching the horse races. Not only is it exhilarating in itself due to the fast-paced nature of the sport, but also because it is one of those sports where you can rarely predict what is going to happen, no matter what the odds are saying. 
This might make it a little harder to bet on the races, but it makes it a lot of fun to watch. It also makes it possible for the underdog to pull a surprise victory out of the bag with a big return. For more information about how to bet on the races, check out the TVG website. 
The unpredictability of horse racing has led to a number of unforgettable moments and alongside it, some racing horses that we just can't bring ourselves to forget. So, instead, we thought we would honor them by putting together this list of the greatest racing horses.
Secretariat 
We could not put together a list of the most unforgettable racing horses without including the American thoroughbred, Secretariat. He is one of the greatest horses to have competed in horse racing and he has a long list of achievements to his name, which is known by many. 
He has raced in the Belmont Stakes before in 1973 which saw him gain a lead of 31 furlongs ahead of his opponents. This led to his competing in the Preakness Stakes race which he won in one minute and 53 seconds. Yep, that's over a mile in less than a mere two minutes!
With such power and speed behind him, Secretariat also went on to compete in and win the Triple Crown later that year and although he would continue to have many great races and incredibly achievements throughout his career, it was his race at the Triple Crown that undoubtedly put his name on the map forever as a legend in the sport of horse racing. 
Red Rum
Although it might be no surprise to see Red Rum on this list, it was certainly a surprise to everyone at the time when he came out of the gate and almost instantly established himself as a horse that would join the likes of Secretariat as one of the greatest horses in history. 
His entire career through the 70s was made up of spectacular performances, such as the three Grand National titles he was able to bring home. Even today, competitors in the races would struggle to match his status, although there are a few current horses who come close. 
Red Rum helped to bring a lot of attention back to the sport and helped to rejuvenate the public interest in betting on the horse races, especially over in the UK where he also helped with improving the popularity of racing, and after a stint on TV, he practically became a star. 
All Along
Despite being slept on right up until her race, All Along would go on to actually win the Prix de l'Arc de Triomphe in 1983 which caused much controversy among spectators. This underdog of an outsider came in and shook up the race by winning by an incredible 17-1.
This was just the start for this race horse, however, and she went on to bag a number of wins in the wake of this initial victory, both in Canada and in America where she competed. Her legacy opened up the door for transatlantic racing and international competition. 
Within just six weeks, she had yet another four wins under her saddle which was a major achievement at the time as this kind of consistency was, as of yet, almost unheard of. To recognize her incredible efforts, All Along was awarded the Horse of the Year Honors.
Man O' War 
How could we forget Man O' War when this American Thoroughbred continually graced the covers of several sports publications, such as Sports Illustrated, The Blood-Horse, and ESPN. The Associated Press even voted him as the outstanding horse of the 20th century!
We have been measuring the horses by their wins so far, but the fact that Man O' War's only loss was by a measly 6 furlongs after a spoiled restart that resulted in him facing the wrong direction away from the racecourse at the time that the gun went off, which led to confusion. 
He was arguably one of the fastest racing horses that we have seen despite competing at a time when conditions were less favorable and horses had more going against them than in their favor. With 20 wins from 21 races under his saddle, he has proven his right to be here. 
Seabiscuit 
A name that any horse racing enthusiast may already be familiar with is Seabiscuit, who rose to fame after appearing as an underdog and breaking records despite his smaller frame. Seabiscuit brought the heart to his horse racing and it definitely paid off for him. 
As many people have said before me, it is not solely the speed of the horse that makes a champion, but instead it requires both intelligence and a significant amount of courage for a horse to become a star and to consistently perform well in the races they are competing in. 
Seabiscuit was often taught different ways to race and was able to keep up with his teachings and learn new things even at the age of two. We love you, Seabiscuit, and thank you for showing the world that you can definitely teach an old horse some new tricks.
Final Thoughts  
What is exciting to remember as we reach the end of this article is that these are only horses that we have seen so far in our lifetime. The best is still yet to come, as thanks to the ease and convenience of online sports betting, there is no reason for this sport to decline any time soon. If this list is anything to go by, the horse races and horses themselves are still popular.
Comments
comments