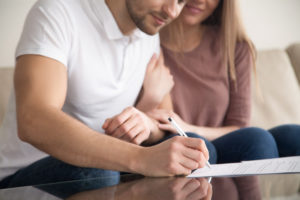 It is important to act immediately after you realize that you are struggling to make your mortgage payments. The first step is, of course, to get in touch with your lender and find ways and other options of protecting your credit, finances, and home.
Just like any other loan, getting late when paying for your mortgage is going to cost you fees or penalties. If you are at least thirty days late on your payment, you risk having your lender reporting you to national credit bureaus.
A single report to a credit bureau ensures that you will have a negative entry on your credit report. This entry might remain on your credit report for at least seven years. 
Here are a few options to can consider if you are struggling to make your mortgage payments;
Modification of Your Mortgage
When buying a home, it is important to plan your finances well. If you find yourself struggling with a mortgage payment, then one option to consider is mortgage modification. This means that you talk to your lender to find out if they can adjust your loan terms. 
Modifying your mortgage allows you to have the mortgage extended by several months or even years. While at it, it is important to note that you will be making the loan more expensive since you will pay more interest compared to the previous loan terms.
Even though it might sound expensive, it is worth the risk especially if you are worried about losing your house. Your lender is at liberty to accept or deny mortgage modification. They tend to accept mortgage modifications for clients with strong credit scores.
Consider Refinancing with a Different Mortgage Provider
This is one of the best options for those with a good credit score. Refinancing means getting another mortgage that comes with affordable monthly payments to ensure that you can afford the payment of your initial mortgage.
The best way of doing this is to look for another mortgage lending company such as www.loandepot.com. You, however, might be required to have about 20% home equity. This helps you to avoid getting mortgage insurance for the new mortgage.
In addition, home equity helps you get the new mortgage at a lower interest rate compared to the original mortgage. The entire process might take a couple of weeks or even months. You might also be required to pay origination fees.
Forbearance
If you are faced with temporary financial challenges making you struggle with making your mortgage payments, you can also consider forbearance from your mortgage lending company.
Forbearance is an agreement with your lending company that allows it to suspend or reduce your monthly mortgage payments for at most twelve months. This is made to give you time to get back on your feet and resume your monthly payments.
If your lender agrees to give you forbearance, they are not allowed to foreclose the agreement as long as the forbearance agreement stands. However, you will have to either pay in a lump sum or through a payment plan for the suspended amount after the forbearance period.
Put Up Your Home For Rent
Putting up your home for rent is another solution for those struggling to make their mortgage payments. However, they have to make sure that they have a place to stay before making this decision. They can move in with family or friends to save the little that they have.
When making this decision, you need to ensure that your home can generate enough money through rental income to help you pay your mortgage. It would not make sense if the money generated is not going to ease your financial struggles.
However, becoming a landlord/landlady means that you will be paying higher fees on property insurance. You will also be responsible for other expenses such as home repairs and maintenance. You, therefore, need to have enough money for these expenses.
Sell Your Home
This is one of the most difficult decisions you have to make especially if you are doing so as a result of struggles with mortgage payments. However, if your home's worth is more than the mortgage balance, this might be the best decision for you to make.
The good news is that people are buying houses now more than ever before. This means that if your home is well maintained and in good condition, you will find a new buyer quickly without any problems.
However, before you make this decision, ensure that you have enough money to make your monthly mortgage payments even during the sale process. If you miss any, this will still affect your credit score.
Struggling to make your mortgage payments does not mean that you have to wait until you lose your home. You can consider the options discussed above.
Comments
comments