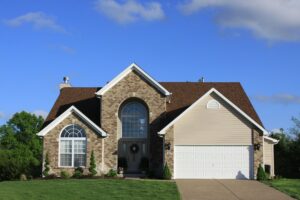 Moving into your first home is a major life moment, but it's also a process which involves a lot of work if you want to sidestep the pitfalls that come with owning property.
Security is an area which you have to take seriously, so if you're just settling into your new home, here are the main things to think about.
Alarms are a worthwhile investment
Having an alarm to detect intruders is a good move, even if you feel like your neighborhood is safe. You can take your pick of all sorts of modern systems, from simple setups to full-blown solutions that integrate with smart technologies to allow for remote monitoring and more besides.
A smoke alarm is also a must-have, as there's no point leaving anything to chance when it comes to ensuring the integrity of your property.
Don't neglect the garage
It's easy to get caught up in considering home security from the perspective of protecting the main body of your house, and overlook your garage in the process.
Shielding this from interlopers is doubly important if there's also a connecting door to the rest of your house hidden in this space.
That's where having modern residential door operators designed for use with roller-style garage entryways is advisable. They give you the robustness you need, as well as the convenience of being electronically operated, allowing them to be opened and closed remotely without you needing to exert yourself, or leave your vehicle.
Cameras give you peace of mind
Another area that's come on in leaps and bounds in the last few years is that of home security cameras. You don't need a complex, costly wired solution, but can instead rely on impressive and affordable setups from brands like Arlo and Nest.
Being able to install these with ease, and access the footage from your smartphone in real time regardless of where you are, means you can leave for a day, a week or a month and know that you've always got a link to your new home.
Social media creates security risks
We're all used to oversharing on social media, but what you might not realize is that this can even lead to your property being targeted by thieves.
For example, if you've got a publically viewable profile on platforms like Facebook and Instagram, and you share posts which showcase aspects of your property, such as its location and the points of entry, then this lets crooks case it without needing to visit in person.
Furthermore if you reveal that you're going to be away for a protracted period with a social post, this lets burglars know that your home will be unoccupied, and thus a soft target.
Even something as innocuous as posting a picture of your house keys, which is what a lot of new homeowners do to announce their purchase, is dangerous, since clever criminals can copy a key just by using a picture, allowing them to break in unobstructed.
Even your Wi-Fi is at risk
Digital home security is just as important as physical home security. The reason for this is that if a hacker gets within range of an unsecured wireless hotspot, they could hop on it and steal your sensitive data without you even realizing it.
Having a password on your Wi-Fi is a no-brainer for this reason, and you should also be careful about who you share this with. Also, remember to change your password every few weeks or months, just to make sure it can't be compromised.
Now that you have the inspiration to begin your own home security improvements, you can get started right away!
Comments
comments