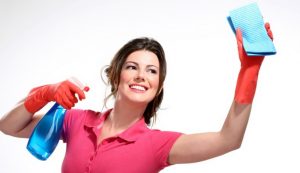 Getting the house of your dreams is a life goal. All the new decor and things we lovingly pick to decorate your house is an experience in itself. However, most of the time while purchasing the best of things for the home, we tend to cut back on the cleaning supplies. That's right. We get basic cleaner or a mere dusting cloth and expect our houses to remain squeaky clean. 
If you have invested tons for the interiors, why to compromise on its cleaning and maintenance?
We have put together a checklist of all the cleaning solutions/products you will need for your house to keep it spick and span all the time. Let's begin the cleaning:
A nice sponge:
When you go out to buy the right sponge, you will end up getting more and more confused. There are a variety of sponges available in the market. But we suggest that you go for the old classic — a sponge with an abrasive side that helps remove and dirt from the surfaces.
There are sponge clothes available as well. They work as both as a sponge and a towel. Get the sponge with more absorbent powers and the one which could last longer.
Carpet cleaning solution:
If you think vacuuming your carpet every once in a while is good enough to clean them, think again. The vacuum might pull out all the dust particles from the rug, but other bacteria will still remain on the carpet. These bacteria can be really dangerous, especially if you have kids or pets at home. Make sure other than vacuuming you also browse through carpet cleaning solutions and pick the one with more antibacterial properties. Use these to clean your carpets. These cleaners will not just leave your carpet clean and tidy, but also emanate any bacteria present on its surface. Try cleaning your carpet with the solution once in a week.
A scrubbing brush:
It's good to have the sponges and clothes, but you need one more tool in your home. Buy an all-purpose scrub brush that helps clean the tiles and fixtures and removes all the tough stains. Buy a brush with firm bristles so that it removes the most challenging dirt present on any surface.
Basic Combo: Mop, Dustpan and a Broom:
The basics of it are to get a mop, dustpan and a strong broom. These tools help to clean surfaces like wood or tiles. If you have kids and pets at home, the house tends to become dirtier after short intervals of time, and you can't take out the vacuum cleaner all the time. A broom and dustpan will come in handy to clean the floors and collect the dry dirt, while a good mop will help clean the surface if there has been any liquid spill.
A sturdy vacuum cleaner:
Last but not least, the goto cleaner is a vacuum cleaner. Not only is it easy to use, but it also makes the cleaning job less time-consuming. From carpets to floors, from curtains to rugs, cleaning all these things becomes more comfortable with a good quality vacuum cleaner. So, make sure to have one by your side always, to make the home cleaning job easier and fun. 
The things mentioned above are must-buy items to keep your household clean and welcoming. If you are a neat freak, you definitely can't do without these things. 
The cleanliness of your house reflects your personality and is a testament to your class; now, choice is yours!
Comments
comments