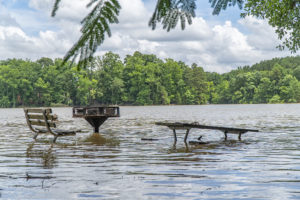 Floods and water damage are common in Charlotte, North Carolina, mostly flash floods. Based on the findings of FEMA, 83 percent of water hazards in this place are flash floods. That is because Charlotte receives more precipitation in a year compared to Seattle. It means water damage can create havoc in your home and the common reasons include storm bursts, flooding, underground leaking, leakage of pipes, and damaged gutters and roofs. 
According to an article published on https://www.huffingtonpost.ca, there are ways to prevent water damage in your home. For instance, you can landscape your garden and yard with vegetation and flowering plants to reduce soil erosion. Besides, you need to hire restoration experts. Here are the five benefits of the same: 
Fast restoration 
When your home in Charlotte is damaged due to floods, the living conditions become intolerable, and therefore, you need a quick restoration service. When it comes to experienced and trained restoration professionals, they respond to your complaint fast and get rid of the water, dry up your living space, and disinfect your home. 
If there is any necessary repair work, the crew will do that as well. Companies in the restoration business for decades have sufficient workforce or crewmembers too and apt tools to do the job in a few hours. 
Reduced costs and fewer losses 
When your home, room, walls, roof, furniture, and appliances are damaged due to excessive floodwater, the cost could rip you off financially. How fast you call the experts could mean the difference between just sanding off and covering a stained wall with a coat of paint and finally having to rebuild the whole part of a damaged wall in your Charlotte home. 
If you call any Charlotte restoration service immediately, it would help in trimming down the overall cost of repair or damages, as the water would be cleared and your property dried off within a few hours. 
Safe mold remedy 
Mold development is one of the greatest problems after water damage in your house. Mold can grow anywhere, on the walls, ceilings, or below the wooded siding. Most of the mold growth is poisonous and noxious allergens, therefore, unsafe if you try to remove them on your own. 
However, when you hire professional restoration experts, they will ensure all mold growth is fully removed to prevent your home from further mold development in the days to come. 
Expert advice about water damage 
When your house is water damaged, it is not easy to figure out whether your wall, wet carpet, damaged furniture, bookshelf, and appliances could be reused or not. The experts will do a reality check of your entire property and furniture after water damage and inform you about the extent of the harm caused. 
Insurance claim assistance 
There are some restoration experts, who have experience in managing insurance papers, forms, and policies. These restorers will help you to document your losses appropriately so that you receive a fair claim amount from your insurance provider. In case of a despite, the restoration experts will furnish proof of water havoc or damage in your house. 
Conclusion 
Now that you know how professionals help you after water damage, you can hire them for clearing the water, drying, and disinfecting your flooded house.
Comments
comments