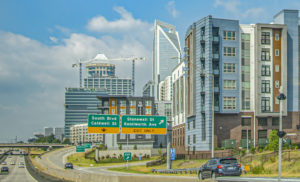 Apartment List has just published their new 2020 Renter Migration Report, analyzing the metros people are looking to call their new home.
As Charlotte's rents continue to rise, our crime increases, and our traffic congestion continues to worsen, renters in the Queen City are increasingly looking to move elsewhere.
Some key insights that Apartment List found for the Charlotte region include:
41.0% of apartment hunters currently living in Charlotte are looking to move elsewhere, while 36.8% of those looking for a place to live in Charlotte are searching from outside the metro.
Among renters looking to move away from the Charlotte metro, the most popular destinations are Raleigh, NC (9.2%), Los Angeles, CA (7.0%), or Columbia, SC (5.8%).
Renters looking to move to the Charlotte metro from elsewhere are most likely to be searching from Raleigh, NC (13.2%), New York, NY (7.2%), or Washington, DC (4.2%).
Charlotte was actually ranked as the 5th major metro in terms of percentage of renters looking to leave;
You can find out more on Apartment List's full report here.
How do you feel about Charlotte's changing environment? 
What do you think we can do to improve? 
Comments
comments