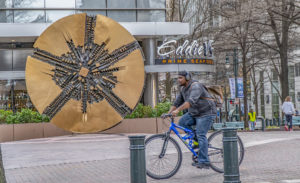 North Carolina hasn't had its first snowfall this season; however, it's never too early to start preparing for the harsh weather up ahead. For most cities, that includes getting snow trucks up and running, as well as stocking up on salt.
Here, we'll go over 4 ways you can prepare for winter in NC. Let's dive right in!
1. Get Your Home Ready for the Colder Weather 
Getting ready for the winter last minute means bundles of stress or limited products. If you don't start early enough, you won't have time to get everything you need done. 
Preparations mainly include conditioning your home for the colder months up ahead. One great piece of advice is changing indoor temperatures slowly and allowing your body to adjust day by day. For example, if your thermostat is typically set at 73 degrees during the day, and 65 at night during the winter, try lowering it one degree every week for a month. 
This method will help you save money as opposed to cranking up thermostats when the weather starts getting colder.
2. Seek Professional Help Wherever Needed
DIY projects are great, but sometimes we need to know when to call a professional. Key things to consider hiring an expert for is home insulation, storm prevention, or any moving services.
Having all your exterior water lines insulated will keep them from freezing during cold weather. Insulation is also a great idea when it comes to your attic and walls. This will decrease the chances of leaks, and keep your home warm. 
If you live in the mountains, you need to prepare your household in case of a winter storm. This includes stocking up on food, blankets, extra batteries, medication, and so on. 
And, finally – planning to make the move to North Carolina during the winter months? In cases like these, you'll definitley want to hire professional movers like Overland Park Movers. They'll get your items transported safely keeping in mind any dangerous winter conditions they may encounter.
3. Adapt Your Normal Routine to the Winter
What we mean by this is you don't have to change up your routine just because it's cold outside. You simply have to adapt and adjust. 
Exercising for instance, can be difficult when it's cold out. Your lungs get that burning sensation when you're outdoors, so you'll want to join a gym or find indoor workouts.Having a plan in place will prevent your motivation to workout from decreasing. 
Likewise, if lawn care is a hobby of yours, don't be disappointed by snowfall coming soon. Homeowners can care for their lawn, even during the winter in North Carolina. This includes fertilizing grass, treating ice with salt or ice melt, and keeping your lawn clean.
Prefer taking a break from your typically landscaping? Hire someone to care for you're lawn while you stay warm inside.
4. Make Time to Enjoy the Season
Finally, after you have made preparations for winter, enjoy yourself! This time of year is the best for making memories withfriends and family. The kids will have fun outside, and you'll enjoy watching their excitement. 
Make sure you don't over-book yourself, so you actually have time to enjoy the season. After all, what would a snow day be without some time to simply look out the window and reminisce on past years? Remember to take time for yourself this holiday season.
Get Ready for Winter in North Carolina Today!
Ready to welcome in winter? It will come sooner than you think, so make sure you follow these steps to be prepared early! 
Comments
comments