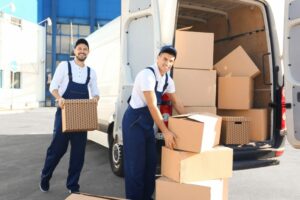 These days, mobility is easier and easier to achieve. Many people work from home permanently, or can work on the road and so moving is an attractive option. Uprooting for a move means many changes.
Something as simple as a car insurance change of address will surprise you with the regional differences in cost. That's just one of the many changes your budget can experience in the event of a move. 
Read on to find out some surprising cost differences when you move.
Adjusting Your Moving Budget
There are a variety of ways to move your belongings from point A to point B, and some are more expensive than others. Obviously, cross-country moves cost more than local moves. Getting an idea of how much to set aside will start you on the right foot. Consider your options carefully.
Shipping
Using a shipping service allows you to move your stuff without being responsible for driving it yourself. Though this service will put a major dent in your moving budget, it can take the headache out of packing.
Options include parcel shipping, freight shipping, portable moving containers, and even online marketplaces (websites that find truckers who have extra room to haul). The costs and efforts vary greatly among these options.
Moving companies will take the stress off of you to pack and move, but they will cost quite a bit.
Often, if you are moving for a new job, your employer can offer a moving service or finances to facilitate this.
Truck Rental
Renting a truck and trailer is probably the most popular option and is less costly than hiring a moving service or shipping. You have to carve time out of your own schedule to pack and drive the truck, and time is money, so factor that in as an expense. 
Gas prices along your route also contribute to the savings you calculate. Thanks to gas apps, you can figure out travel estimates ahead of time and plan stops around cheap gas.
Tolls are another expense to include when calculating expenses. If you are interested in smooth sailing, look into getting a toll road transponder such as E-ZPass, which allows you to bypass traditional tolls. Even though it costs you upfront, the transponder is yours to keep, and the tolls don't cost any extra.
Local Move
Keeping your move local is the cheapest move you can get. Often, you can rely on friends and family vehicles and help. Factor in the cost of feeding your helpers to keep everyone in good spirits.
Even local moves cost something. You might want to hire someone to move items like a piano or chest freezer. You also will need something to haul your household. Many hardware stores offer truck rentals. 
Budgeting Housing Cost Differences
Qualifying for your new mortgage doesn't indicate what other financial changes you'll experience in moving. By considering the following variables, you can make a more informed decision before you sign the dotted line.
Taxes
Moving to a good school district might come at a hefty tax increase. Make sure you know your annual tax obligations and be prepared for annual increases. Generally, if you move from a large metropolitan area to a rural community, though, you'll see a tax decrease.
Taxes are also impacted by community needs like police, fire stations, libraries, and local projects. Residents in rural areas might pay the county for law enforcement services, while cities must fund their own police departments. This will change your monthly tax load.
Cost of Housing
Location can severely impact the cost of your new house. If budget is a concern, you may need to weigh the pros and cons of a mediocre house in a desirable area versus buying a dream house in a less desirable location.
City water, rural water, well, and septic service factor into your budget in different ways. Drilling a well on a new property will be an upfront cost but won't impact monthly costs significantly. Often, city water suppliers offer a program that estimates a flat monthly rate, then returns any excess funds to you at the end of the year. 
Your electric bill will look vastly different depending on your power grid. Whether your city has a powerplant or must rely on a distant power provider will impact your bill. More residential solar power options are becoming feasible and attractive. Whatever power your household doesn't use can be sold back to the power grid for profit.
Home Maintenance
If you're moving from a city that provides trash removal, it may surprise you that your new neighborhood requires you to pay for your own trash removal. Cities often provide these services themselves to accommodate congested areas better. You'll end up paying for it in your taxes but won't see a monthly bill.
It's a good idea while house shopping to find out about any homeowners association (HOA). HOAs can hold high expectations for lawn care and general upkeep. Also, the going rate for handyman services depends on your area.
Landscaping services vary greatly across the country. Water supply also influences your property management.  If you're used to paying a hefty water bill for your in-ground sprinkler system, it may surprise you that some areas of the country don't need lawn irrigation. 
Budgeting for Changes in Living Expenses
If you have the flexibility to choose anywhere you want to live, or if you're choosing between urban and rural life, factor living expenses into your decision. Everything from groceries to internet can depend on your ZIP code.
Food Budget
A grocery budget can flex your budget based on location because of the number of available stores and your store's cost in acquiring their inventory. Just jumping across state lines can alter your food bills by hundreds of dollars a month. 
A state like Hawaii, for example, requires an expensive journey to ship many items. They rank as the most expensive state for groceries. Shipping costs don't always have the biggest impact on your food budget. New York City can hike your grocery list up by over 100% compared to the national average.
Entertainment 
Subscription entertainment is available wherever there's internet, and pricing remains consistent. Not all cable or internet services are consistent nationwide. Some places have very few options, so the pricing is not as competitive. 
Internet rates vary by location, and fiber optic internet service may not be available in your area. Rural areas tend to have fewer options. Surprisingly, not all homes are wired for internet. Make sure to factor installation fees or startup costs for internet into your moving budget. If you're social media obsessed, this will be a priority.
Insurance
Car insurance is another expense that varies depending on your ZIP code. Some ZIP codes mean a higher monthly premium. If the area you want to move to is considered more hazardous for owning vehicles, it will raise your premium. 
Homeowner's insurance varies by state and can raise or lower your annual budget. Rates can vary by up to a thousand dollars depending on your state.  Everything from local weather and population density impacts the cost of insurance. 
Budgeting to Account for Travel
The bottom line is, how much do you get out of the house? Driving can impact your monthly budget more than any other line item. 
Work
Settling for an affordable home outside a comfortable radius of your job can raise or lower your budget long term. Longer commute times mean more gas, vehicle wear and tear, less time making money, and an increased chance of accidents and car problems. Find out what public transportation options are available or how accessible your prospective community is for bikes.
Recreation
If you are involved daily with recreational activities that are beyond walking or biking distance, you'll need to account for travel expenses. Just having kids in sports can wrack up the miles in no time flat.
School
Busing services are provided for community members, but what happens if you live outside the radius of busing? Daily dropoff and pickup trips add significant strain to a daily budget and should factor into your decision.
School activities outside school hours also determine transportation costs. Travel time itself is a cost, though it is not a budget line item. The phrase "time is money" is true in many ways.
Depending on your new neighborhood, the cost of recreational activities can vary greatly. Gym memberships, sports leagues, and community education costs vary based on location. Groceries could stretch your budget beyond its limits. These are the costs you have to add up before you pack up and move.
Maria Hanson writes and researches for the insurance comparison site, AutoInsurance.org. She is passionate about helping people navigate the process of finding the right insurance and best coverage.
Comments
comments