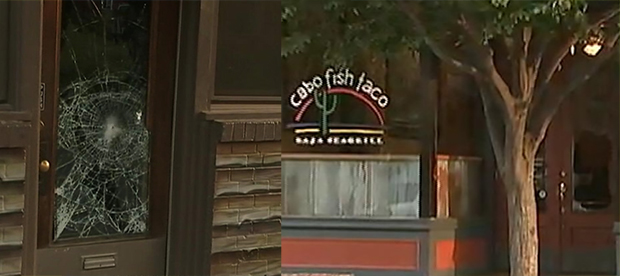 Several NoDa business owners have had their windows smashed, doors busted down, and money stolen over the past week. The NoDa company store last week, and Cabo Fish Taco, Jack Beagles and the Crepe Cellar this past weekend.
According to the police report, a large rock was thrown through the front window of the Crepe Cellar around 5:30 a.m. Sunday to make entry. The thief then grabbed the cash register and took off in a black Jeep Cherokee.
A register with little cash inside was also stolen from Cabo Fish Taco, according to one of the workers.
Here's the video from the break-in at the NoDa Company Store, where you can clearly see the perp's face:
Police now think that all three of the break-ins are linked, and a few of the business owners think they were all done by the same person.
Local residents are now working to organize a round-the-clock neighborhood watch to catch the thief.
Joey Hewell, the co-owner of the Company Store, just posted a call to action on his Facebook profile;
If you have any information that could lead to an arrest, please call the police.
Please share;
Comments
comments